Here at Caravan Guard we're introducing some new tyre safety discounts so the careful motorcaravanner can save even more on their motorhome insurance and reduce the risk of a road accident.
For motorhome owners who fit either Tyron Bands, invest in a Tyre Pressure Monitoring System or use tyre sealant, we will offer 5% in new discounts*.
This is on top of our already generous safety and security discounts to policyholders, for fitting devices such as approved immobilisers, alarms, tracking devices and reversing cameras or  sensors, which could save up to 27.5% on a Caravan Guard motorhome insurance policy.
We take a look at these products in more detail:
Tyron wheel safety bands greatly reduce the risk of an accident through loss of control after tyre deflation by helping to keep the tyre on the wheel after a puncture, blow-outs and under inflation.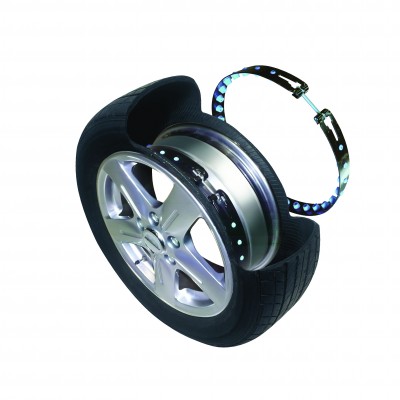 Incorrectly inflated tyres can affect the way a motorhome drives. A Tyre Pressure Monitoring Systems (TPMS) can help to prevent blowouts and other accidents caused by over or under inflated tyres. A TPMS works by placing sensors either on the motorhome tyre valves or inside the motorhome wheels. These sensors continuously measure the pressure and temperature of the tyres and transmit information wirelessly to a dashboard mounted monitor and sound an alarm if there's any abnormality. Popular makes include TyrePal or Snooper's Tyre Pilot.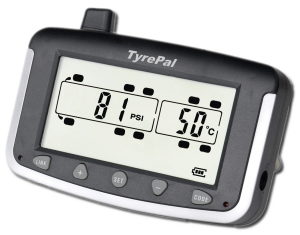 We've also teamed up with Tyrepal to offer a 5% discount on their TPMS products. Simply use the discount code – GUARDTP1 – when shopping via their website – www.tyrepal.co.uk. (Code is valid until March 2017.)
Tyre Sealant is a liquid which is injected through the motorhome tyre valves and coats the inside of the tyres. In the event of a puncture, and when the penetrating object is removed, a small amount of tyre sealant is squeezed through the puncture hole to seal the tyre. We offer this discount for the likes of Phantom Tyre Protector and Ultra Seal. Please note the discount does not apply for post-puncture tyre sealant kits which are only used to temporarily repair tyres after a puncture.
For more information about motorhome tyres see our latest guide or visit TyreSafe.
*Discounts for tyre safety products can only be applied once. For example if you have Tyron Bands fitted to your motorhome you would not get a further discount for also installing a tyre pressure monitoring system.
All discounts are subject to underwriting terms and conditions. Minimum premiums apply.
Cost to insure: *
---
factfile
| | |
| --- | --- |
| Model | |
| Base vehicle | |
| Axle type | |
| Dimensions | |
| Shipping length | |
| RRP | |
---
Search our blog
---