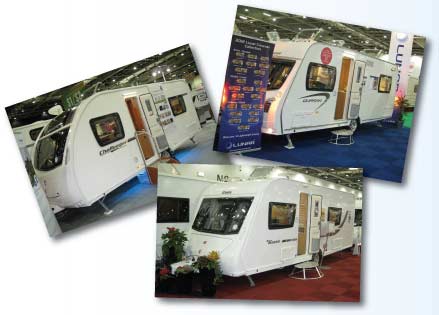 In this three way review we take a look at a trio of excellent caravans with a price tag including delivery of under £16,500: The Swift Challenger Sport 514, Elddis Avante 540, and Lunar Quasar 534.
Classed as four-berth models, all are single axle models with offside kitchens and fixed double beds (the lazy man's two-berth). The Avante has an end shower room, whilst the others have off side wet rooms.
The bedrooms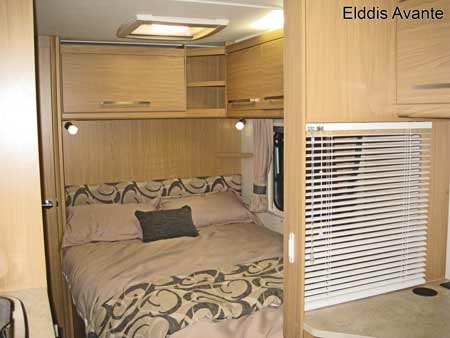 The Challenger's fixed double bed is 6ft 2ins long but 4ft 4ins wide; the Avante measures 6ft 4ins and is also 4ft 4ins wide; Quasar is a tad wider at 4ft 5ins and 6ft 3ins in length.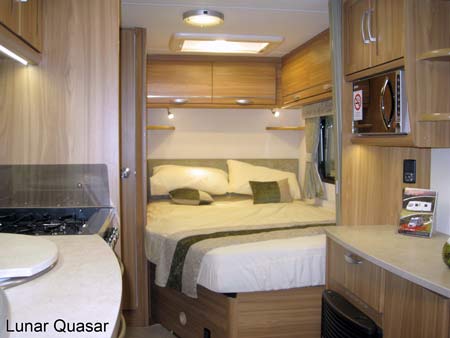 The difference in bed sizes isn't really noticeable and again comes down to personal preference.
The kitchens
Kitchens came under scrutiny next; all have 700W microwave ovens, but the Quasar's is fitted over the side dresser, giving more space in the kitchen.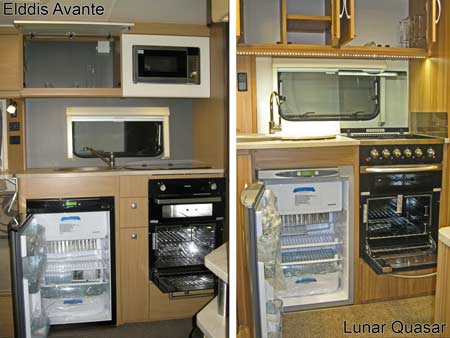 Green credential points were given to Avante and Quasar for 100% LED lighting throughout; Challenger has this in the main habitation area only.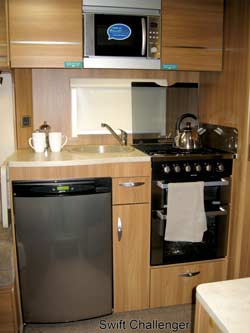 Size and weight
If you've got a tight spot in which to store your planned caravan purchase your choice might come down to dimensions. Overall length of the Challenger is 6.88 m (22ft 7ins) and it's 2.25m wide (7ft 5ins). The Avante is 7.34m in length (24ft 1ins), but is just an inch narrower than the Challenger and the Quasar measures 6.81m (22ft 4ins) and is 2.16m wide (7ft 1ins).
If weights are important for your towcar, then the Quasar wins as the MTPLM is 1345kgs and MRO 1191; next on the weighbridge is the Challenger at 1380kgs MTPLM and MRO 1230 with Avante the heavyweight at 1412 MTPLM, MRO1240kgs.
Security and Safety

We would have liked to have seen more standard fit security systems and safety devices on all models; none had alarms as standard though Swift and Elddis offer infra red alarms as optional extras. The Swift and Lunar had AL-KO AKS 3004 stabiliser and AL-KO Secure receiver.  The Elddis Avante has a BPW chassis with a stabiliser. Fitting an infra red alarm system is an option on both the Swift and the Elddis.
Swift fit the Challenger Sport range with the AL-KO ATC electronic anti snaking device as standard and this will reflect favourably with many caravan insurers. The Elddis Avante540 has no iDC (Intelligent Drive Control) anti snaking device fitted as standard though it is another optional extra.
Should you expect these options to be fitted as standard in this price range? Probably not, is the answer but a small investment in the lock for the AL-KO Secure receivers on the on the Swift and Lunar 'vans could be worthwhile with discounted caravan insurance on offer.
Verdict
The price difference between these models is only £350 and all are typical of the good value for money you get at this mid-range price. The choice comes down to what you want most from your new 'van. If kitchens are important to you, then the Quasar should be high on your list; and if weight is a consideration then the Quasar scores highly there too. The shower room in the Avante is practical and spacious, but wet rooms are easier to wipe down after use! The Challenger has the most stylish exterior especially with its swooping front end.
Prices
Recommended retail prices including the cost of transporting your caravan from the factory to the supplying retailer and various additional services carried out prior to you taking possession of your caravan:
Swift Challenger Sport 514: £16,090
Cost to insure: £267*
Elddis Avante 540: £16,440
Cost to insure: £343**
Lunar Quasar 534: £16, 380
Cost to insure: £303***
For more information
www.swiftchallengersport.co.uk/
Caravan insurance cost based on: *Swift Challenger Sport £15545 fitted with standard fit AL-KO ATC and optional AL-KO Secure. **Elddis Avante 540 £15949 fitted with optional BPW iDC anti snaking device. ***Lunar Quasar £15885 fitted with optional AL-KO Secure. All caravans fitted with hitchlock (and wheelclamp in the case of the Elddis Avante) and kept on drive at HX4 0BE. Caravanners over 30 years old, claim free for 3 years and a member of a caravanning club. Quote includes 10% online discount and 6% Insurance Premium Tax and is correct as of 20.03.12.
Note insured values do not include retailer delivery and preparation charges.
Cost to insure: *
---
factfile
| | |
| --- | --- |
| Model | |
| Base vehicle | |
| Axle type | |
| Dimensions | |
| Shipping length | |
| RRP | |
---
Search our blog
---