Caravan awnings are a great addition to a touring or seasonal pitched caravan, giving extra space for dining, the dog, children, or even as a drying area for wet clothes.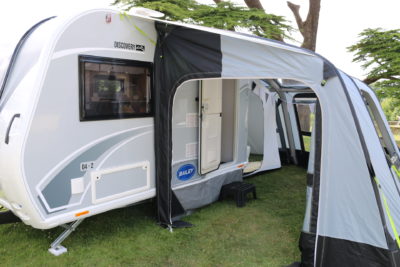 Last month, we asked caravanners what type of awning they used and after a fantastic response with 900 votes, we can now bring you the results…
In at number one in the popularity stakes were inflatable air caravan awnings for touring caravanners, with a 43 percent share of the votes. In comparison, only two-and-a-half percent of caravanners told us they used an air awning on a seasonal pitch caravan.
Almost a third of touring caravanners use a more traditional poled awning – with 31 percent of voters selecting this option.  Seven percent of voters said they had a poled awning on a seasonally pitched caravan, compared to 2.5% of seasonal pitchers that had an inflatable awning – indicating that poled still is the preferred choice for those on a fixed pitch.
Twelve percent of caravanners who cast their vote said they had both air and poled caravan awnings.
Very few voters said they didn't have an awning at all – with this option only getting a 2.5 per cent share of the votes.
Your caravan awning comments
Edward Gellan has an air awning and thinks it's a great piece of kit. And John Cruickshank finds his air awning is more robust in high winds.
"The trick with all porch awnings is to attach guy lines to both ends of the channel beading," John commented. "This stops it moving with the wind. Some companies have an eye fitted for this."
But Jon finds his air awning only fits properly if the pitch is level.
Ian Smith said: "We have a porch awning, half size of a full one, with fibreglass poles. As I am disabled the boss and I find it ideal to use." He added that they've had to replace two sections of pole due to a gale.
Andrew has a Fiamma canopy on his caravan rather than an awning.
"We find this better for our needs and provides shelter for bicycles and other outside equipment," he said. "When our children were smaller we always had a full awning for the extra room it provided but it was always a pain to put up and take down. The Fiamma canopy is just much easier these days."
Thanks to everyone who voted. If you're looking to change your awning, see gear guides to inflatable awnings, poled awnings, caravan porch awnings, and also awnings for caravans on a seasonal pitch.
And don't forget our comprehensive caravan insurance provides storm damage cover to awnings as standard. Just make sure you account for the replacement cost of your awning in your insured values.
Cost to insure: *
---
factfile
| | |
| --- | --- |
| Model | |
| Base vehicle | |
| Axle type | |
| Dimensions | |
| Shipping length | |
| RRP | |
---
Search our blog
---