Everyone likes to save a bit of money, especially with the current rising cost of living. Here we share some money-saving caravanning tips from some experienced caravanners.
You've probably invested quite a lot of money already on your dream caravan and matched it up with your tow car, but there are lots of ways to go caravanning on a budget.
Money-saving caravanning tips
You can take some simple cost-cutting steps in how you drive your tow car, how you load your caravan, how you plan your caravanning trips, how you holiday in your caravan, and how you insure it.
1. Don't go too far
We get it, there are some fantastic places to visit in every corner of the country. But you could save money by not travelling too far. The further you travel, the more it will cost you in fuel.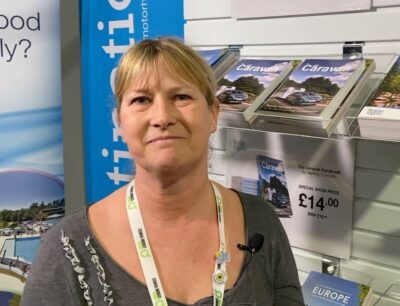 Caravan author and journalist Sammy Faircloth said there were often many great campsites or tourist spots to be found not too far away from home. Plus lower mileage on your tow car could mean a lower car insurance premium.
2. Lighten the load
An obvious one. It's amazing what you accumulate in the 'van over the years. Leisure Vehicles Officer Tim Booth had a top tip – get rid of any excess weight and baggage in your caravan and have a good clear out of things that you're not going to use when touring – you could even sell some caravanning gear that you haven't used in a while to raise some cash for some more trips.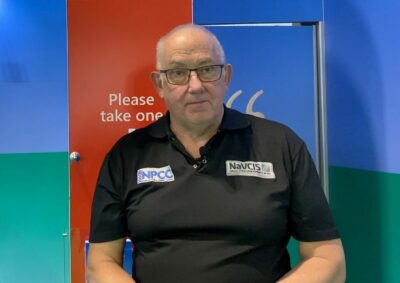 "Reducing the weight of the caravan can actually reduce the amount of fuel that you're using," added Tim.
Check out our video on how to load your caravan tyre correctly.
3. Discount codes and subscriptions
Look out for vouchers and discount codes for days out, fuel and shopping. From rewards schemes, to discount codes or booking ahead online, there are many ways to get some money off things like attraction tickets, food shopping, and even fuel. And if you work for the NHS, police, or armed forces, there are lots of discounts available with schemes such as the Blue Light Card. Also, check your bank account to see if it has a rewards scheme or money off at certain retailers.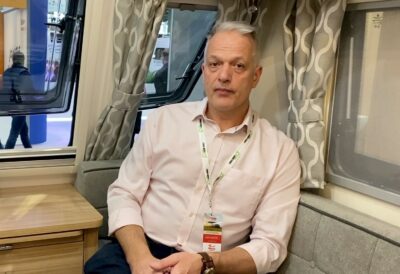 Bailey Brand Ambassador Lee Davey mentioned organisations like the National Trust and English Heritage which offer annual memberships. After the initial outlay, these memberships can save you quite a chunk of money in the long run on regular building or garden entry fees and parking costs.
4. Travel in the off-season
If you can travel outside of school holidays or bank holidays then you'll save some money, as caravan sites will be cheaper. The ACSI camping card will give you discounts at more than 3,000 campsites in and around Europe, including the UK, outside the main summer school holidays.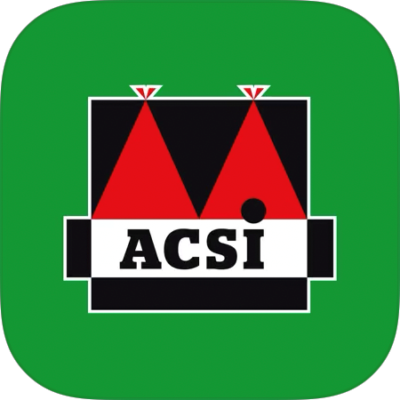 5. Take it steady
Driving smoothly, taking it steady, and planning ahead will also save on fuel. You'll also get to the campsite less stressed by checking for any roadworks and accidents before you set off.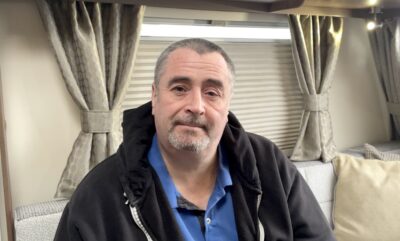 Caravan vlogger Dan Trudgian said the manner in which he drives when towing makes a huge difference to their fuel economy. So his top tip was to research your route before setting off to make sure you can take in as many A roads, dual carriageways and motorways as possible so you can cruise for longer, rather than stop starting.
Sticking to a steady 50-60 mph speed on flat open roads and avoiding sharp acceleration and braking will get you more miles to the gallon.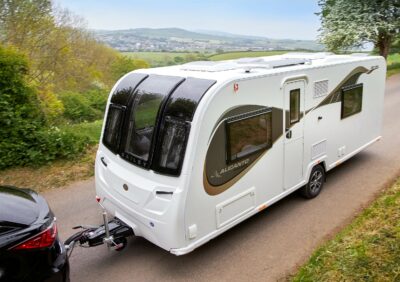 And using an app like Petrol Prices when on holiday means you can find the cheapest fuel local to where you're staying.
6. Make a tyre PACT
Dan also checks both the car and caravan tyres and makes sure that the pressure is correct, as this will not only mean you're towing outfit is safe, but can also make a difference to your fuel economy. Also, check the age and condition of your tyres and that the caravan wheels are torqued. Check out our video on caravan tyre safety.
7. Regular servicing
Keeping on top of maintenance and having your caravan serviced each year will save you money in the long run on costly repairs for things like damp or water ingress.
Money-saving caravan holiday tips
8. Enjoy the great outdoors
Long-time caravanners James and Katy Butler (aka the Wobble Boxers) love caravanning on a budget. They always enjoy the free things around the caravan site. Walking around the local area won't cost you a penny, and neither will a trip to the beach or local park.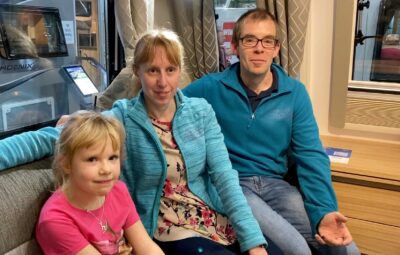 "Many campsites have a playground or things like forest walks or have nearby footpaths," said James. "You can also take your own toys, like footballs, tennis rackets and board games. When caravanning on a budget stay and enjoy the local area, such as a park and a local walk."
Also, consider cycling around the local area or using public transport – it will probably be less than fuel and parking costs.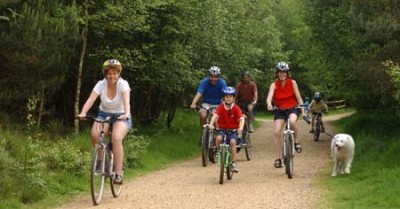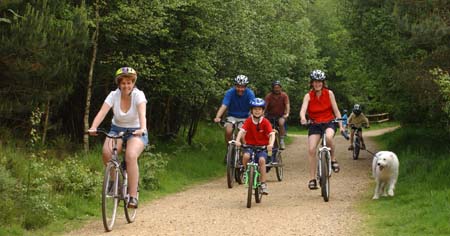 Plus there are often many local free attractions, such as museums, local exhibitions, art galleries etc.
Katy and James also subscribe to the Ordnance Survey maps app so you have walks and tourist attraction locations at your fingertips.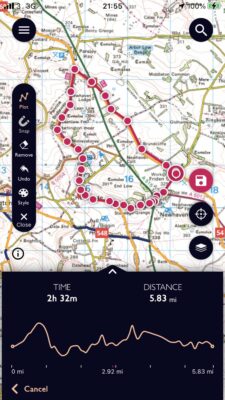 9. Stay at smaller sites
As well as saving money by caravanning in the off-season, Sammy said you'll find cheaper campsite fees if you go to smaller sites, like a Certificated Location (CL) or Site (CS), or even a pub or farm that allows overnight stays. They'll have limited facilities than the bigger campsites but caravan numbers will also be limited, so they can make for a great, peaceful getaway.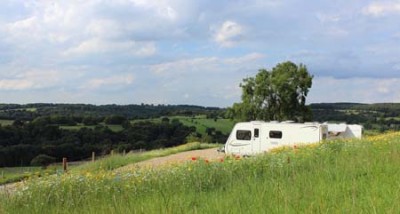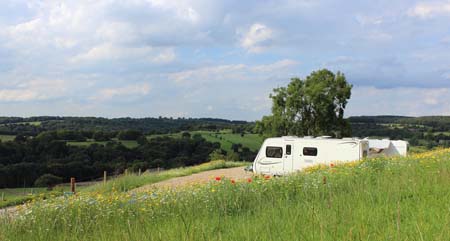 Choose your campsite carefully – don't book onto a more expensive campsite that might have lots of great facilities if you're not going to use them.
"You have all the facilities you need in your caravan – they're made to go off-grid – which means you can stay on these smaller sites and really enjoy a great outdoors setting," said Sammy.
10. Use the campsite facilities
When it comes to using your onboard toilet, shower, and sink, why not save on gas by using the on-site facilities for showering and washing up, and use their toilet block rather than your own.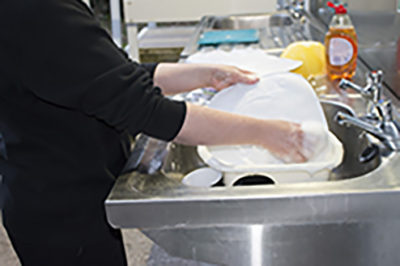 You'll also save a bit on toilet chemicals too and avoid a blocked pipe from washing-up waste. Plus, it's a great way to meet your fellow caravanners, when washing the dishes or queuing for a shower!
11. Safety and security
Tim highlighted how you can rack up some caravan insurance savings by installing security and safety devices. An Al-Ko Secure axle wheel lock attracts an insurance discount with Caravan Guard, as will an approved tracking device, and an alarm.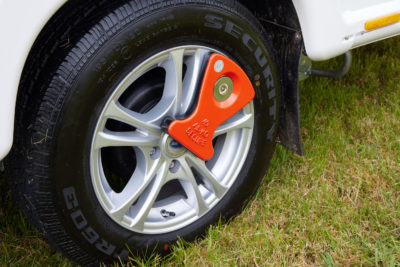 If your caravan has AL-KO's ATC (automatic trailer control) fitted, this will attract a discount for helping to prevent snaking, as will a reversing camera.
Where you store your caravan can also save a few pounds, particularly if there are extra security measures, such as CCTV, access control at your secure storage facility, or security posts, and locked gates at home.
We also offer a discount for caravanners over 30 years old.
(Insurance discounts and benefits are subject to underwriting terms, conditions and cover levels. Minimum premiums apply.)
12. Take your own food and drink
A top cost-saving tip from Dan is cooking in the caravan rather than eating out a lot.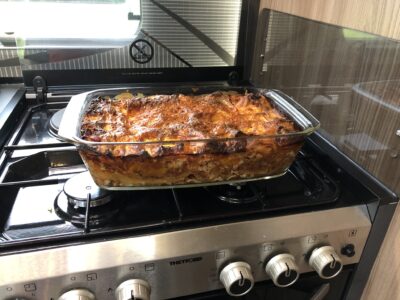 "We do go out occasionally but the majority of our food is in the caravan and we have everything we need – cooker, microwave, barbecue – to cook a great meal," said Dan. "The whole family gets involved too. It saves us a wedge of cash but is also something that we enjoy doing together."
Also, if money is tight, ditch the cafes and brew your own coffee and tea in the 'van (see our guide to kettles and flasks). One way of saving on gas costs is by boiling the kettle and filling up a flask with the hot water so you don't have to keep re-boiling it!
Cutting down on expensive alcoholic drinks will also save you some cash!
13. Take your pets
The Wobble Boxers save on cattery and kennel fees by taking their cats and even their pet duck on their caravan holidays.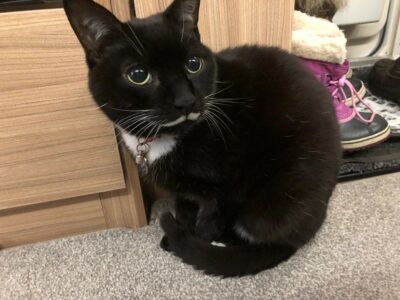 "They're part of the family and let's face it everyone likes a holiday," said James. "We always take our two cats and they've even been caravanning to the Arctic Circle twice! They absolutely love it and there's nothing better for them than being in a home environment."
14. Be gas smart
With the discontinuation of smaller Calor gas cylinders, Lee suggested considering having a refillable gas cylinder fitted to your caravan. Gaslow self-refillable gas cylinders claim to save you money every time you fill with LPG. The Gaslow self-refillable LPG gas-cylinders can be refilled at an Autogas garage forecourt, service station, or gas bottle dealer.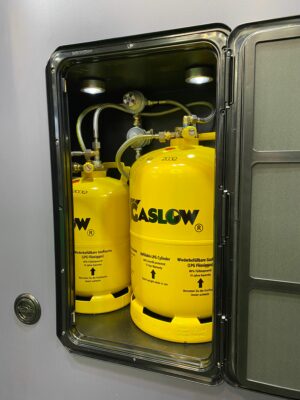 Lee estimated it cost £6 to refill a cylinder, compared to exchanging a gas bottle for £26 – a £20 saving!
"And going back to those European trips, you'll be able to fill up wherever you go!" Lee added.
Money-saving caravan insurance cover
Get the right level of caravan insurance cover
Finally, make sure you don't pay for too much cover when insuring your caravan. So if you're not planning on going abroad in your caravan, then don't pay for European cover – it's an optional cover that can be removed from Caravan Guard's policy. Increasing the excess you're willing to pay if you have to make a claim, will also reduce your caravan insurance premium.
Plus, insuring your caravan for market value, rather than new for old, will save you some money. But, it will mean you'd just get a settlement equal to the caravan's value at the time rather than a brand new model in the event of a write-off or theft.
Over to you…
Got any money-saving caravanning tips to share? Let us know in the comments box below.
Cost to insure: *
---
factfile
| | |
| --- | --- |
| Model | |
| Base vehicle | |
| Axle type | |
| Dimensions | |
| Shipping length | |
| RRP | |
---
Search our blog
---