Back to basics: Towbars
Want some background information on towbars before you go out and get one? Start right here.
A towbar actually comprises two key parts – a bracket that's largely unseen once fitted, and a towball. The other key consideration regards connecting the electrics so that your towing vehicle and towed unit are operating in tandem as far as lights and more – including safety fittings such as reversing sensors – are concerned.
Getting started
There are a few things you need to consider before you even look into having a towbar fitted to your tow vehicle. These include:
Checking to make sure your vehicle fulfils suitable requirements for towing – everything from whether it has been designed to accept a towbar and has the fittings to accept a towing bracket to weight capacities (critically, kerbweight, maximum towing limit and nose load).
Your caravan should be fit for the road. Your local specialist caravan dealer can help with this, of course. Good dealers will also help explain suitability for the factors above.
You should also check your driving licence to make sure you are qualified to tow
If you're planning on having a towbar fitted to a company vehicle, or one that you own on a leasing arrangement, you'll need to check it's okay
Check, also, with the insurer of your tow vehicle. It may have conditions in its insurance policy regarding towing.
Towbars by type
There are two main styles of towbar – flange or swan neck, plus two main types – fixed or detachable.
Swan necks are by far the most common type these days and so called because their design does indeed resemble a swan's neck. Compared to a flange-type, it's less likely to set off your towing vehicle's reversing sensors, is generally a bit more expensive and, frankly, looks better.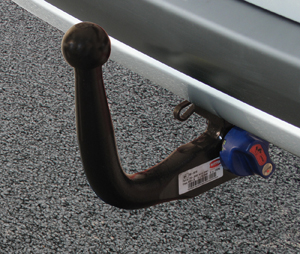 A flange towbar is more traditional and is easily identified by the presence of heavy-duty bolts (two or four) that fix the towball to the main bracket.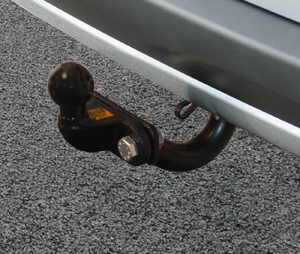 Flange or swan neck towbars can be fixed or detachable. The former means the towball is permanently attached, whereas a detachable means the towball can be taken off when not needed (it will have some kind of locking device) – making it less obtrusive and less susceptible to accidental damage.
A flange towbar with detachable towball is often preferred by cyclists etc, because it means you can attach a purpose-made bike holder for use when you're also towing your caravan. A bumper protector can also be added.
Also, not specifically detachable, but you can now get towbars that are retractable, i.e. they can be swung out of sight when not needed.
How do I get a towbar fitted?
You can fit a towbar yourself, but by far the most common procedure is to have it installed by a specialist. Again, your local caravan dealer can be a great starting point, but it's also easy to track down towbar fitters near you, including those who will come to your home.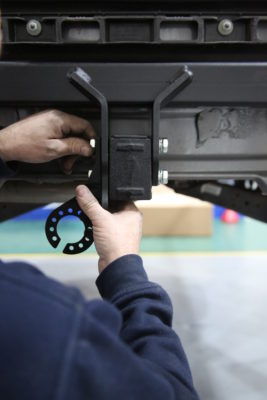 Major towbar manufacturers typically have a UK-wide network of qualified fitters.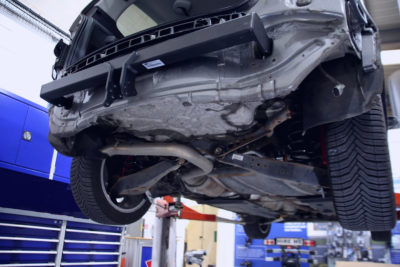 Towbar electrics
The electrics are the second key part of any towbar fittings, allowing you to connect up to your caravan's electrics – exterior lighting as well as key items such as the fridge and battery (for charging) – when you're towing.
Most modern caravans will have a 13-pin socket to connect to for all of this (some older caravans will have single or double seven-pin systems).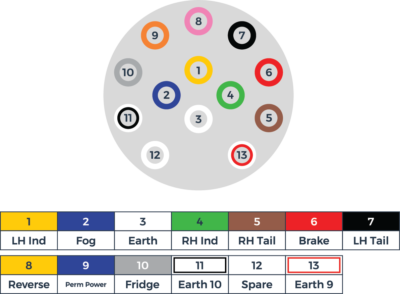 Increasingly, there are dedicated wiring kits suitable for specific vehicle makes and models (one key factor here is they won't invalidate the vehicle's warranty), but universal kits are also available.
It's worth noting, too, you must have some kind of warning – audio and/or visual – to tell you your caravan's lights are working whilst towing.
Other considerations
Towbars do need a little bit of regular maintenance. Try and get into the habit of covering the towball when it's not in use. Check any moving parts (levers or similar) are working freely. Only lubricate in line with the towbar manufacturer's recommendations.
A quick visual check every time you hitch/unhitch should alert you to any potential problems with your towbar fitting.
A vigorous shake to make sure nothing has worked loose and there are no untoward noises will also give you peace of mind.
The towball should show no signs of damage or corrosion. Use thinners, white spirit or similar to wipe away any grit and grease.
The legalities
There are some legal issues you need to be aware of in relation to towbars. For example:
Type Approval. At the moment, and even though technically we are no longer part of the European Union, any towbar must have European Type Approval (this applies to passenger-carrying vehicles made after August 1, 1988). A quick look through the technical spec of any towbar should confirm approval.
Nose load. This is the weight exerted on the towbar when it is hitched to a caravan. It's also sometimes referred to as static vertical mass. It is illegal to exceed the nose load limit.
Your towbar is not allowed to obscure your registration plate.
A breakaway cable is legal requirement for towing. This is a failsafe device that operates the brakes on your caravan if, for any reason, it becomes detached from the towbar when you're driving.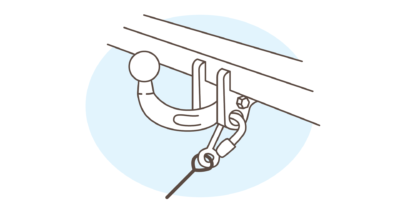 Top towbar tips
Having a towbar fitted? Make sure you tell your fitter you intend towing a caravan. Your make, model and year of caravan will determine what towball is fitted as well as make sure the correct electrical connections. Also, the fitter should be made aware of any fittings such as stabilisers on your caravan – this will most likely determine what size of towball you're going to need.
Remember also, your towbar will be checked as part of your tow vehicle's annual MOT test. Ideally, you should also make sure your towball is fitted when getting tested.
If you have a key-locking detachable towball, make sure you keep your key in a safe place! Ideally, make sure you have at least two (in case you really do lose one).
If you find you're hitting your bumper with the caravan's tow hitch when you're hitching/uncoupling, a hitch guard might be a sensible purchase (where feasible). Easing forward slightly after a reversing manoeuvre will prevent the caravan's tow hitch damper from extending forward and causing potential damage.
If your tow car is involved in an accident it's worth having your towbar professionally checked after. It may not show any outward signs of damage, but there may be stress-related factors.
Key towbar players
The NTTA is the National Trailer and Towing Association, the trade body for the towing industry in the UK. Its website offers lots of general advice about towbars, manufacturers, fitters and general information: www.ntta.co.uk.
Other key players include: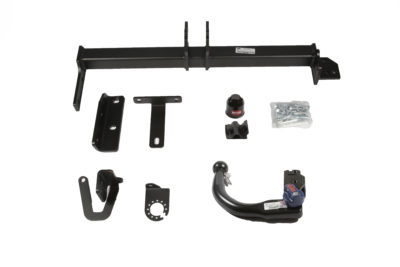 See also our articles…
See also pieces about towing with a motorhome https://www.caravanguard.co.uk/news/guide-to-towing-with-a-motorhome-24316/ and safe towing advice https://www.caravanguard.co.uk/news/guide-to-safe-towing-5840/.
Images in this article were supplied by Witter who also have more towbar information here.
Over to you…
Got any more tow bar advice to pass on to fellow caravanners? Please feel free to add a comment below.
Search our blog
---