Want to take all the hassle out of any tricky caravan manoeuvres – from pitching to millimetre-perfect parking? You need a caravan motor mover.
Here's our introduction…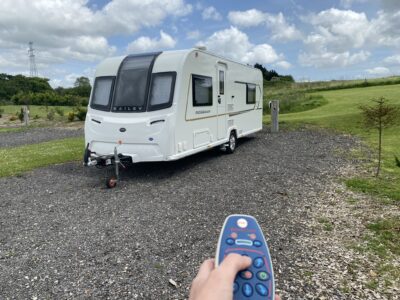 The name says it all. A motor mover makes it all the easier to manoeuvre your caravan. From parking to levelling up, or hitching caravan to car, or even turning the wheels so that you can fully engage a security device, a motor mover is your loyal friend.
Using power from your caravan's battery (usually), a mover comprises a motor or motors, with rollers that engage – either manually or automatically – on the caravan's tyres, which is then operated via a remote control. A backup lead is often also supplied if, for any reason you get any interference.
The best caravan motor mover for you? Of course, that depends on your priorities and budget. However, as one commentator puts it: "In essence, they all work well and people love them. However, if they break/you damage them, those with a decent warranty and good UK-based aftersales support come into their own."
Another side benefit is you'll be putting less pressure on your towing vehicle, especially the clutch when you use a mover for delicate manoeuvres.  
The majority of caravans in use across the UK have had motor movers fitted to them. Last year was a boom year, despite supply challenges etc. Maybe it's time to make your move?
Invest in a caravan motor mover and you can make life that little bit easier!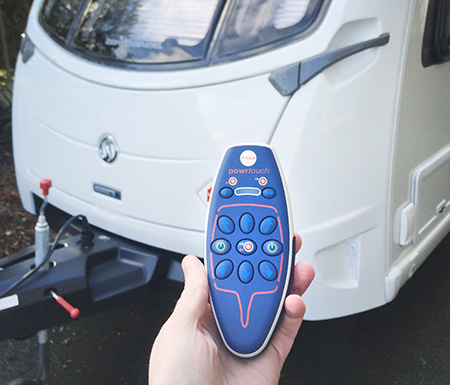 The first caravan motor mover as we know today was launched in 1997. Today, there's a great choice of caravan motor movers out there, with models for all types of tourers.
Fitting a motor mover
Some movers are designed for DIY fitting (although do check the warranty conditions). Otherwise, budget for around £100 for fitting by an authorised specialist. Or, ask your local caravan workshop about fitting next time your 'van is booked in for any servicing or repair work.
Tips for buying a caravan motor mover
You'll need a decent leisure battery (100Ah is usually the recommended minimum) that's also in good working condition if you have a mover fitted
Check you can still use your wheel clamp with your choice of motor mover
Consider upgrading your jockey wheel if you want to optimise a mover's performance
Remember, adding a motor mover (and possibly upgrading your battery, too) will mean eating into your 'van's payload capacity
Tips for using your motor mover
If you've just bought a mover, practice with it in an open space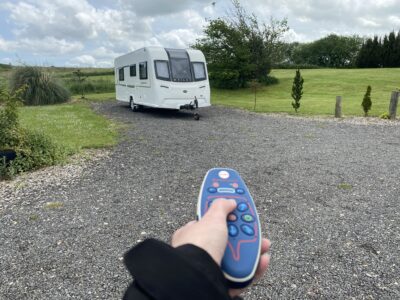 Do remember to lower the jockey wheel, raise your corner steadies, release your caravan's handbrake and remove any chocks just before you use your caravan motor mover. Put them back in place, as needed, before you disengage the rollers
Keep contact time between rollers and tyres to a minimum. Leaving the rollers engaged for long periods can cause tyre damage
Always check for possible obstructions (including embedded stones on tyres etc) before you engage the rollers
For models that engage the rollers manually, a wrench is supplied. A good idea is to leave the wrench on the driver's seat of your car when the mover's rollers are engaged – hopefully, it means you won't drive off without disengaging the rollers and cause any damage.
Motor mover maintenance is relatively straightforward but always check the manufacturer's instructions. Silicone spray or similar is handy for any sliding parts. It's not recommended you use a power washer to clean your mover.
Please see our star players below to compare caravan motor movers. There are other motor movers in this article too. 
---
Star Player Number 1
Powrtouch Evolution Auto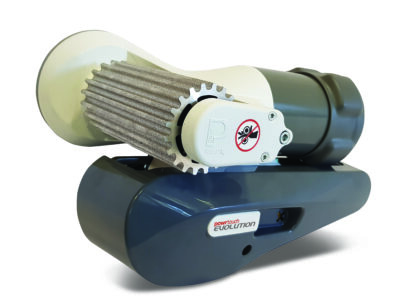 From the company that's by far the market leader in motor movers, and has been for at least the past decade. In single axle format, the Powrtouch Evolution is the UK's most popular individual model. It comes from a full range of movers that also includes models for twin axle 'vans, with manual or (as here) automatic engagement.
Its five-year warranty and nationwide network of installers/repairers are two key reasons to buy, from a manufacturer that's been synonymous with caravan movers for some three decades now and has been owned by Truma since 2008.
The Evolution Auto will move single axle caravans up to 2,800kg in total weight, works on all types of terrain and has the power to move caravans up slopes of 25%. (1 in 4)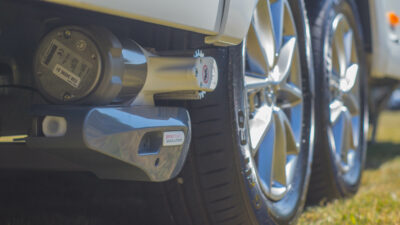 Note the price below includes a fitting charge, which can vary from dealer to dealer.
Key features UK-built, powder-coated aluminium casing, automatic electronic roller engagement, soft-start, extruded aluminium rollers, four-pole electric motor, soft start, back-up cable, five-year warranty, full UK fitter network
Expect to pay £1,175 (including fitting)
---
Star Player Number 2
Powrtouch Freedom
This starter model in the Powrtouch range has the potential to move a 1,500kg caravan up a one in four slope.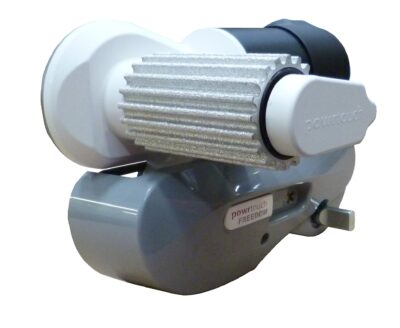 Its slimline gearbox means it will fit caravans with shock absorbers, the Freedom features soft start and instant stop as soon as the handset buttons are released. Plus, there's automatic shut-down after 20 minutes to prevent accidental battery drain. Its approximate weight is 35kg.
The Powrbar option allows you to engage or disengage the rollers from both sides at the same time – ideal if you don't have easy access to one side. For example, if your caravan is parked up tight by the side of your house.
Key features includes a five-year inclusive warranty, two-button safety control, lightweight aluminium rollers, low battery indicator.
Expect to pay £699
---
Star Player Number 3
Quattro Titanium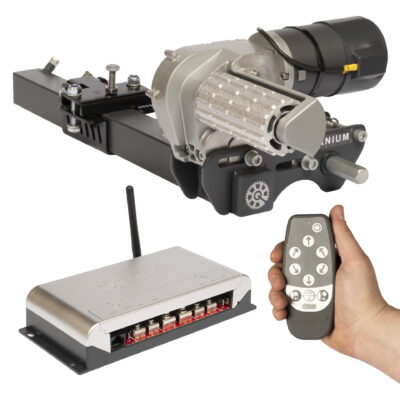 The most popular model in the Quattro line-up from Purple Line, the Titanium is suitable for caravans up to 2,300kg. It's all backed by a seven-year parts and labour warranty.
Taking its power from your caravan's leisure battery, it can work from batteries as low as 85Ah.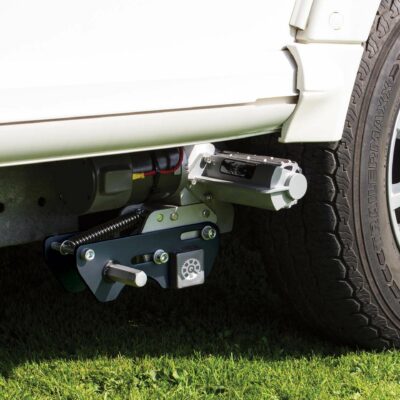 There's also an interesting handset upgrade option that includes a unique rollerball mechanism for making the minutest of movements, variable speed and an LCD display.
Key features Seven-year warranty, manual engagement, soft-start function, single-speed, 29kg total weight, 12cm per second maximum speed
Expect to pay £769
---
Star Player Number 4
Reich Easydriver Infinity 2.5
The most recent addition to the Reich line-up of motor movers, the range-topping Infinity promises improved power and efficiency. Available in single (here) and twin axle variants, each coming with an App that, as well as controlling movement, can also give you extra information such as battery condition – all via your smartphone.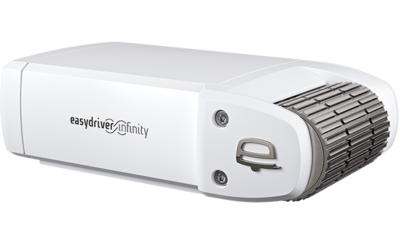 An extra benefit here is, should you lose radio control and/or damage the handset, you still have full Bluetooth connectivity.
Key features Soft-start and soft-stop, automatic engagement, weight 29kg, electric isolation switch, five-year warranty
Expect to pay £1,799
---
Star Player Number 5
Camper Trolley 1500
Something different, this. But the theme is the same – no-hassle manoeuvring. The Camper Trolley requires no drilling or wiring, because all you need to do is attach the supplied bracket to your 'van, ready to add the mover itself when needed – hence it also has no effect on overall payload if you don't keep it inside the caravan. After use, you simply put the main unit away in its storage bag.
It's also ideal if your caravan has a particularly low road clearance.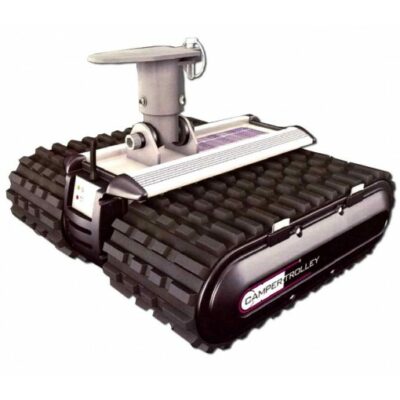 Operation is via a remote control and it can tackle inclines up to 10%. LED lights warn when it needs recharging or if there is any malfunction. It also comes with its own mains rechargeable lithium-ion battery.
As the full name suggests, this caravan motor mover model is suitable for caravans up to 1,500kg. The more expensive 2500 version is for heavier 'vans, including twin axles.
Key features No drilling or wiring needed, twin-track design, 14.4V 5600mAh lithium-ion battery, planet gear motors, maximum speed 9m per minute, weight 16.5kg, three-minute safety shut-off function
Expect to pay £1,050
---
Star Player Number 6
Leisurewize emove EM303A
Back to basics, starter model in the emove automatic motor mover range (there's also a cheaper, manual version) from Leisurewize.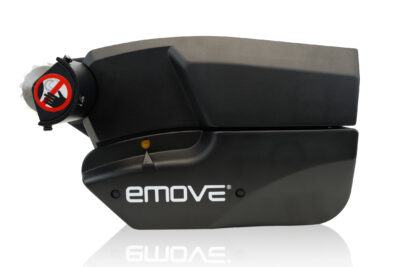 It comprises a chain-driven motor with automatic engagement, using alloy rollers.
Key features Coated steel casing, low 27.5kg weight, soft-start/stop, app option, five-year parts and labour warranty
Expect to pay £899 (including fitting)
Other key players
Rhyno – www.rhynomovers.com
Motor mover comparison
Compare caravan motor movers using our table below.
Make & model
Axle type
Max caravan weight (0% gradient)
Hill climb ability
Device weight
Auto roller engage
Min recc. leisure battery
PowrTouch Evolution Auto £1,175     
Single
2800kg
2000kg / 25% gradient
35kg
Yes
100AH
PowrTouch Freedom £699
Single
2500kg
1500kg / 25% gradient
32kg
No
85AH
Quattro Titanium £769
Single
2300kg
29kg
No
85AH
Reich Easydriver Infinity 2.5 £1,799
Single
2500kg
2500kg / 15% gradient
1200kg / 33% gradient
29kg
Yes
85AH
Camper Trolley 2.5 £1,050
Single
1500kg
1500kg / 10% gradient
16.5kg
N/A
Own battery
Leisurewize emove EM303A £899
Single
2500kg
1600kg / 18% gradient
27kg
Yes
100AH
Will it affect my insurance?
The most popular type of motor mover-related caravan insurance claims have been for damage to the mover itself – after damage was caused to the underside of the caravan from hitting potholes, kerbs, the base of petrol pumps, or when wheels have become detached from the caravan. In one instance, towing a caravan over a dead animal broke a motor mover! So it's important to be extra cautious of those hidden hazards on the roads and on your driveway.
In a few cases, customers had forgotten to apply their caravan brakes when disengaging their motor movers, meaning their caravans have rolled back and hit something. Only in one instance, did we get a claim where the customer hit something whilst manoeuvring his caravan with the motor mover remote – which goes to show how easy movers are to use!
If you accidentally hit and damage somebody else's vehicle when using a motor mover to manoeuvre your caravan on a public highway, for instance when moving the caravan from the road on to your home driveway, Caravan Guard's touring caravan insurance would pick up the repair bill under the public liability section of the policy.
As always, such accidents are largely unavoidable, so it goes to show the importance of making sure you have specialist caravan insurance to cover your motor mover against possible damage (or theft). Make sure you include your motor mover's value in your sums insured for your caravan equipment. Depending on whether you have taken out new for old cover or market value cover will determine how much you value your motor mover.
Where next?
The dealer who supplied your caravan is the most obvious first stop if you're considering a motor mover. You'll get good advice and the possibility of viewing a variety of products. Fellow caravanners will, of course, be able to offer advice based on their own experiences (see also below). Look out, also, for independent reviews and comparisons, for example at places like this: https://www.caravanmoversonline.co.uk/.
Over to you…
As always we're keen to hear from you if you want to share your experiences of motor movers and/or key advice with other Caravan Guard fans. Feel free to add your comments below.
Search our blog
---