Whether you plan on caravanning in winter or putting your tourer into hibernation it's important to make sure you have insurance cover throughout the year.
For some caravanners, it might be tempting to cancel their caravan insurance cover in winter to save a few pounds, but if this is the case, be warned as caravan thefts can and do happen, as well as other risks, such as storms, or accidental damage.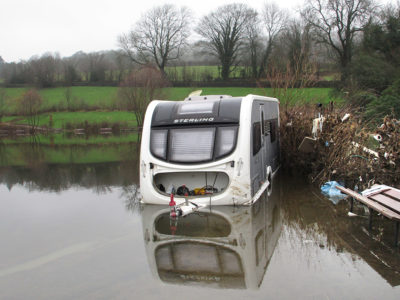 We looked back at our caravan insurance claims from November 2019 to the end of February 2020 and our stats show we still receive many claims in these winter months. In fact, 17 per cent of caravan claims were made during these four months, highlighting the importance of caravan insurance all-year-round.
The main risks facing your tourer over winter are accidental damage, stormy weather or theft-related incidents, whether that be caravan theft, attempted theft or thieves breaking into caravans to steal their contents.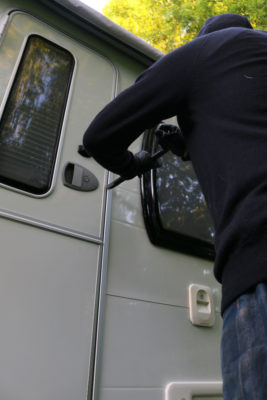 Accidental damage
Almost half of claims in the winter months were down to accidental damage. Forty-eight percent of our winter caravan claims were for damage whilst touring or when in storage.
There were many claims for bumps and scrapes from hitting walls, posts, or other vehicles, and even claims for panel and roof damage caused by tree branches or even birds flying into the windows!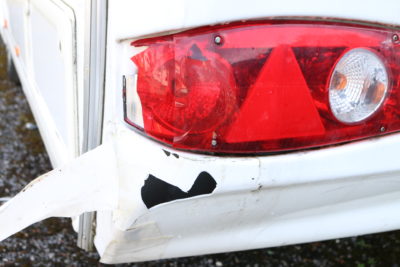 Other claims included stone damage, cracked shower trays, dented worktops or axle damage from driving over potholes.
Top tip: Take extra care when manoeuvring your tourer into tight storage spaces, down narrow country lanes or when reversing. It's always worth asking someone to watch your back when reversing your caravan, to check your surroundings, and to take it slowly, using your mirrors, or reversing camera or sensors. A motor mover is also a worthwhile investment for those tricky manoeuvres.
Stormy weather
Twenty-four percent of that winter's claims were for damage caused by stormy weather, with high winds blowing off skylights, hailstones damaging caravan roofs and awnings being torn or damaged in bad weather.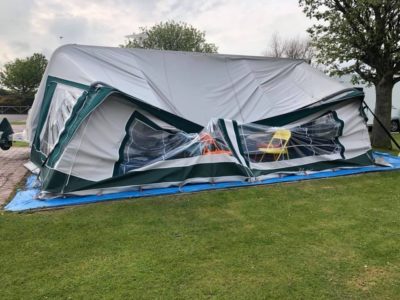 Windy weather also caused roof tiles, slates and other debris, including wheelie bins and trampolines, to blow into caravans at home or in storage, sometimes causing thousands of pounds of damage.
Storms Ciara and Dennis in early 2020, caused rivers to burst their banks and left us dealing with a number of flooding claims.
Top tip: Whilst it can be difficult to protect your tourer from extreme weather, a caravan cover might help prevent damage from things like small falling tree branches during stormy weather that can scratch and sometimes puncture panels – but also consider where you lay up your caravan in winter, and try to keep it away from large trees, if possible, and consider moving it if flooding is likely nearby.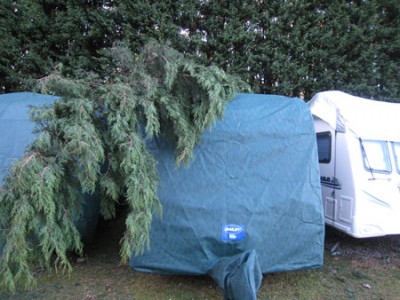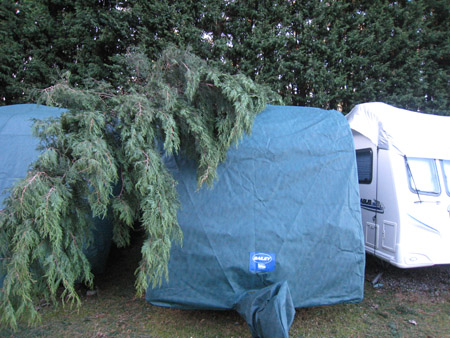 At home storage locations it's worth considering cutting overhanging branches that may fall on your caravan during high winds and securing down any garden items that may blow into your 'van.
Caravan theft claims
Seventeen percent of claims in the winter months were theft-related, highlighting the importance of making sure your caravan storage location is super secure and that all security devices are always fitted and activated.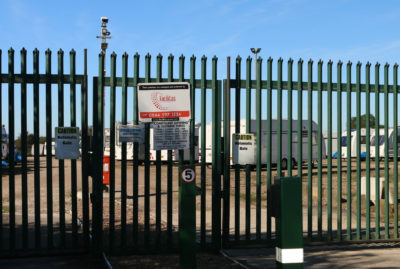 Also, do let your caravan insurer know if you change your storage location in winter for theft cover to remain valid, and also make sure that you apply all security devices that are noted on your caravan insurance policy.
As well as claims for stolen caravans, we also dealt with a number of attempted theft claims and theft of equipment – in some cases seating cushions and even batteries were stolen.
Whether you store your tourer at home or at a storage site, as well as fitting the security devices your caravan insurer has asked for, there are extra caravan security items that can be added to make theft or break-in difficult, such as axle wheel locks, door and window locks, corner steady locks, hitchposts, and alarms. A proactive tracking device will also help to recover your caravan if it is stolen.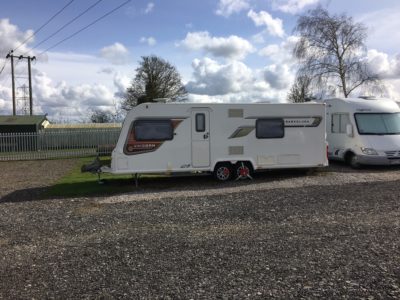 At home park your caravan "nose-in" it to make it difficult for thieves to quickly hitch up to a car. Plus, having padlocked gates or a locked gate post in front of your caravan might also be a theft deterrent, as well as a caravan cover. Sensored security lighting is also a worthy investment.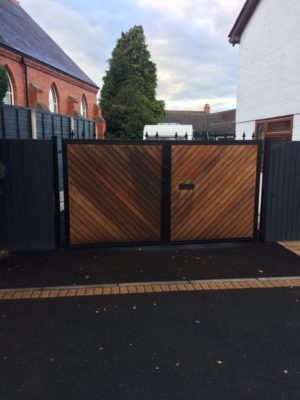 Make sure you use good quality, Sold Secure approved locks.
If you can't store your caravan at home, choose a secure storage site, which has been given a platinum or gold rating by the Caravan Storage Site Owners' Association (CaSSOA), and check it has high and alarmed perimeter fencing, controlled entry and exits, and CCTV monitoring system, or even security staff on site.
Top tips: Bear in mind if you have listed an alarm or tracking device on your insurance schedule you'll be expected to make sure these are kept powered throughout the winter. So if they rely on power from a leisure battery, make sure this is charged. Don't leave your caravan registration or insurance details in your tourer as this would make it easier for a would be thief to sell the caravan on to an unsuspecting buyer. It's also a good idea to have photos of your caravan and any key pieces of equipment or contents to help identify them if recovered or to speed up your claim.
How can I protect my caravan from theft and reduce my insurance premium?
You can reduce your caravan insurance premium by making your tourer more safe and secure. For example, a caravan tracking device, an axle wheel lock, an alarm and security marking will all save you some money on your caravan insurance. Plus, keeping your caravan in a CaSSOA Silver, Gold or Platinum storage site will also bring down your insurance premium.
Will the contents of my caravan be covered in winter?
Our caravan insurance covers your caravan equipment and personal belongings if it's kept in the caravan when stored at home or at a storage site. However, you must take steps to safeguard your property, so it's recommended you remove any valuable items such as TVs and caravanning gear from your tourer if you're leaving it unattended for a number of months.
And to prevent damp it's a good idea to empty lockers so the air can circulate around your 'van during the winter months if it's not in use and to either remove your seat cushions or stack them on their sides away from the walls of the caravan.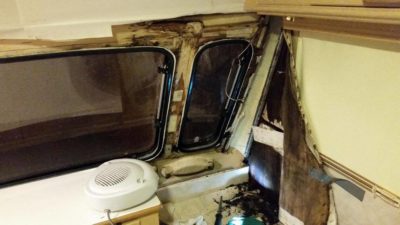 If you're still using your caravan in winter, also take care with your awning. Whilst we do cover storm damage to your caravan awning, they're extremely susceptible to high winds and should be taken down if severe weather is forecast or if conditions become noticeably windy. If your caravan is to be left unattended for any sustained length of time then we would also recommend you take down your awning.
If you do need to make a caravan insurance claim this winter, please visit our claims helplines and handy tips page for making a touring caravan insurance claim.
And if you're unfortunate enough to suffer a theft, report it to the police, your caravan insurance provider, and the CRiS registration scheme as soon as possible.
We'd welcome any other ideas from our readers on how they protect their caravans throughout winter. Please add your comments below.
Cost to insure: *
---
factfile
| | |
| --- | --- |
| Model | |
| Base vehicle | |
| Axle type | |
| Dimensions | |
| Shipping length | |
| RRP | |
---
Search our blog
---