Want to modernise your motorhome? Or give it a new look for the season ahead?
There are plenty of ways you can do so – not all of which means breaking the bank.
We've picked out our 10 top tips, but there are plenty of other ways you can add a bit of glamour, or enhance safety and security, or a combination of all of these.
Have a look at our list below, but in many of the scenarios, your best first step is asking for advice from your local specialist motorhome dealer.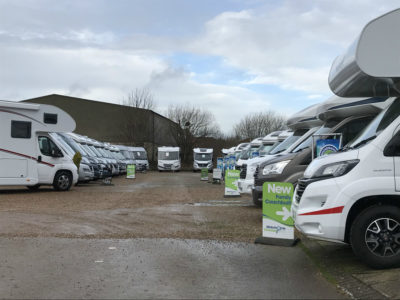 1. Re-upholster
If your motorhome's upholstery is getting a tad tired, why not change it? You might want to consider replacing any foam cushioning that's beginning to sag (or, if you own a fixed bed model, perhaps a new mattress will provide a better night's sleep).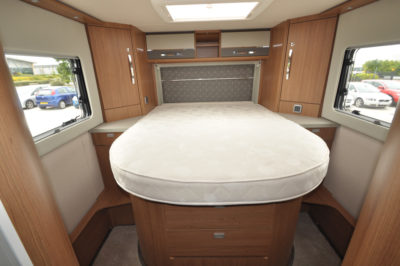 Some new upholstery might just help transform your motorhome – at a fraction of the cost of upgrading to a completely new vehicle.
One leading specialist, CareAvan, suggests the cost for re-upholstering a typical six-berth motorhome is around the £1,270 mark. A new carpet could be £340 (or vinyl flooring, £390).
It's worth visiting a showroom before giving the go-ahead to any work, but you can get quotes by sending images of your vehicle's interior to preferred suppliers, nationally or locally.
If you don't fancy splashing out on a full re-upholstery, you could just add some new throws on to your seating and buy some new cushions for a pop of colour.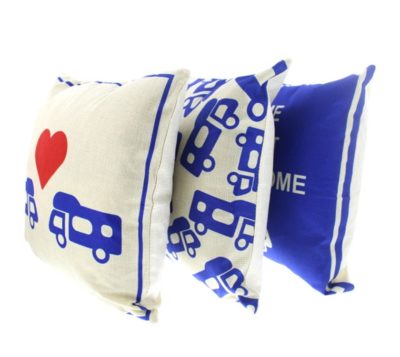 Also, if you're considering a change to any rear seating, for example, the addition of seat belts for additional travel passengers, you really should be talking to a specialist like Coachbuilt GB, who can guide you through the pros as well as the cons, plus legislation of such procedures.
Indeed, Coachbuilt GB points out that items like drop-down bed systems and improved bed make-up from dinette seating – or even changing seats to permanent beds are often asked for.
Contacts include…
CareAvan: www.careavan.co.uk
Peak Caravan Upholstery: www.peakcaravanupholstery.com
Regal Furnishings: www.leisure-furnishings.co.uk
The Caravan and Boat Seat Cover Centre: www.cbscc.co.uk
Tockfield: www.tockfield.com
2. Change the curtains and/or blinds
Aside from leaving any doors open for too long, most heat loss in a motorhome is via the cab. Consider adding a heavy-duty curtain to cut off the cab area if you want to alleviate some of this.
Or, you might want to update the existing curtains elsewhere. Add thermal backing while you're at it.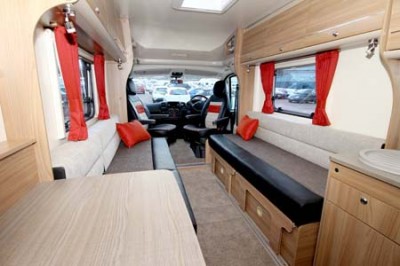 That's an opportunity to look at new designs, of course. Or, if you want to replace like with like, try your vehicle's original manufacturer. Some companies, like Auto-Sleepers, are particularly good at retaining stocks of original materials.
Or, if you or a friend or relative has a sewing machine, you might be able to make up something new – or even use some of your original curtain materials.
 Contacts include…
Curtains Made Simple: www.curtainsmadesimple.co.uk
Madmatz: www.madmatz.co.uk
Reimo: www.reimo.com
Vanshades: www.vanshades.co.uk
3. Change the interior lighting
LED bulbs use significantly less power than other bulbs, last longer, and will certainly brighten up your motorhome. It's easier to argue they're more environmentally-friendly, too – so why not make the switch?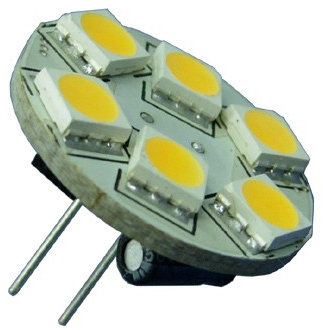 For those who like a bit of DIY, you could add some LED strip lighting to the underside of upper-level locker runs or around the base of your bed?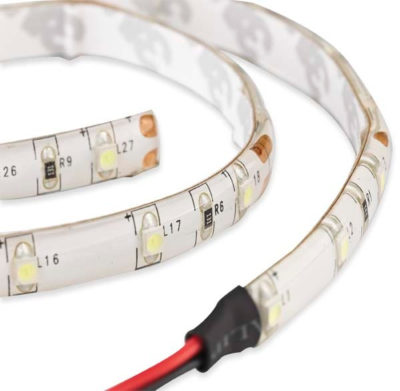 Just check all your lights are on 12V circuits. If you have any 230V lighting, you might want to leave any adaptations to the professionals.
A great starting point is a leisure vehicle accessory shops – plus you can go a lot further, with remote controls, sensors, all manner of colours and more.
If you're thinking of upgrading your power sockets, consider adding a USB outlet or two, too.
Contacts include…
Aten Lighting: www.atenlighting.co.uk
BCA Leisure: www.bcagroup.co.uk
Lumo Lighting http://lumo.eu.com/
Ring Automotive: www.ringautomotive.com
Ultra LEDs: www.ultraleds.co.uk
4. Beef up your security
Beefing up your security will not only help to prevent theft but will also attract some healthy discounts on your annual motorhome insurance premium.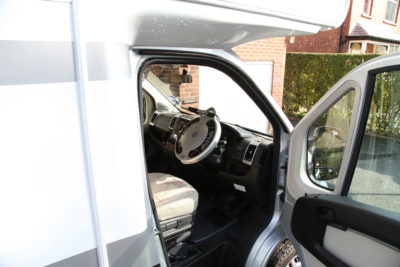 There are many ways you can improve your vehicle's security, heading upwards in price from window alarms to new locks for existing fittings, to adding deadlocks… all the way through to full total alarm or tracking device from the likes of Van Bitz, Phantom and others. With regards to an alarm make sure you go for one that's been designed for motorhome use so it protects both cab and habitation doors and windows.
Then there are more visible devices, such as wheel clamps, steering wheel locks, clutch claws, security posts and more. Or maybe you have a well-trained dog?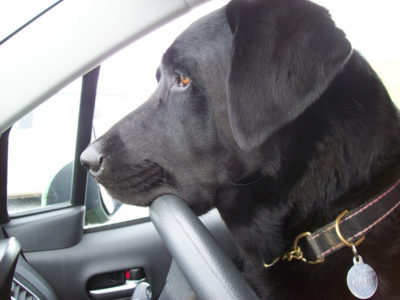 Contacts include…
Milenco: www.milenco.com
Phantom: www.phantom.uk.net
RoadPro: www.roadpro.co.uk
Van Bitz: www.vanbitz.com
5. Improve your safety
You might want to also think about vehicle and personal safety, as well as security.
Tyre safety accessories like Tyron Safety Bands, a TPMS (Tyre Pressure Monitoring System) can mean a saving on your motorhome insurance.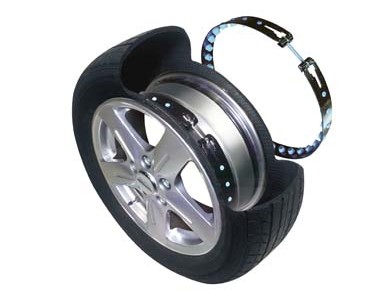 Ditto for items like reversing camera systems and parking sensors.
A personal alarm isn't such a bad idea, either, wherever you intend to travel.
Contacts include…
Tyron Safety Bands: www.tyron.co.uk
TyrePal, www.tyrepal.co.uk
Snooper: https://gb.snooper.eu/caravan.html
TrailerVision: www.trailervision.co.uk
6. Small changes
Small changes that don't cost much can make your vehicle just that bit more appealing. Adding something like a colourful floor rug will not only tie in your colour scheme, it can also bring some extra comfort underfoot, as well as an extra layer of insulation. It's worth heading to your local carpet shop for cut-offs.
Other colour scheme ideas or accessories to brighten up the interior, can also include scatter cushions and matching cookware and cutlery. Some of the latest melamime tableware looks as good as high-end crockery but at a fraction of the weight so ideal for keeping your payload down.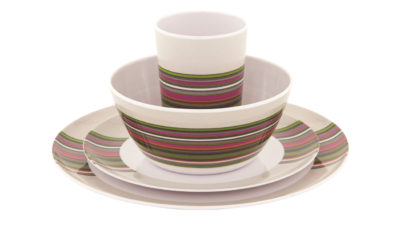 In the bathroom, you could look to upgrade the showerhead to a water-saving Ecocamel – if you don't have one already!
Contacts include…
Ecocamel, www.ecocamel.com
Prima Leisure: www.primaleisure.com
Towsure: www.towsure.com
7. A deep clean
A deep clean of your motorhome, inside and out, can work wonders for getting rid of any unwanted scuffs, stains and even smells.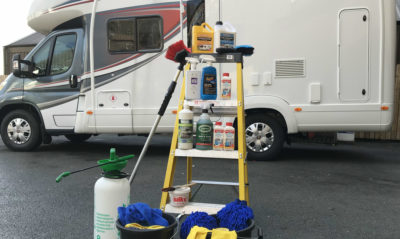 A full valet, covering the interior as well as the exterior, might just be one of those things you end up getting a professional to do for you. Many can come to your home to do.
Then adding a protectant finish like Diamondbrite or Paintseal will help to keep your vehicle continuing to look fresher and cleaner for longer.
Contacts include…
Autovaletdirect: www.autovaletdirect.co.uk
Diamondbrite: www.jewelultra.com
Motorhomevalet: www.motorhomevalet.co.uk
Paintseal Direct: www.paintsealdirect.com
Tourershine: www.tourershine.co.uk
8. Add luxury via accessories?
If you feel you're not quite ready to trade in your motorhome, why not just gift it (and yourselves) with a little added extra – anything from some new outdoor furniture to a microwave oven.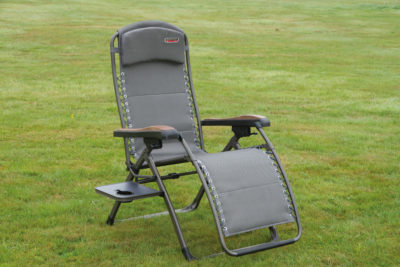 Be careful with built-in systems like heating and hot water, or cookers and fridges – for these big ticket items you'll need to speak to the professionals regarding installation!
However, if you have Truma heating with a CP+ control panel (typically, supplied from 2014 onwards) marked iNet-ready, you could upgrade to remote control via the downloadable free Truma app – this allows you to set heating and blown air controls from your smartphone. Indeed, if you want this function on a pre-2014 vehicle, ask your local dealer about fitting a new control panel.
Note, also, iNet now works with Alde heating systems (although there's a cost involved for fitting an upgraded control panel).
If you're going for this, ask also about Truma's LevelControl, which gives an instant check on how much gas is still in your cylinder and, again, can be monitored via iNet.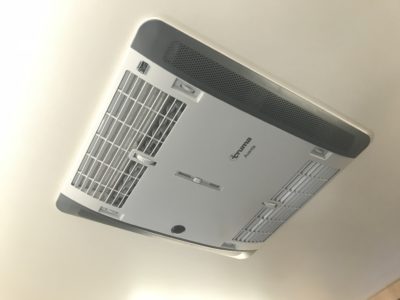 Truma has recently launched a compact air conditioning unit, which could help keep those temperatures down when the weather hots up.
And to help with any extra power requirements? How about adding a solar panel or switching to lithium next time you need to replace your leisure battery?
Contacts include…
Dometic: www.dometic.com
Road Pro: www.roadpro.co.uk
Thetford: www.thetford-europe.com
Truma: www.truma.com
9. Improve your entertainments
There are a number of ways to improve your onboard music system.
You can upgrade any motorhome to receive (DAB) digital radio if it doesn't already. You can get a DAB adaptor that can be affixed to your motorhome's dashboard allowing you to listen to DAB through your existing system.
Plus, you might want to consider a unit that goes even further and includes satnav, reversing camera system etc. Such things can actually be more cost-effective than buying each item individually.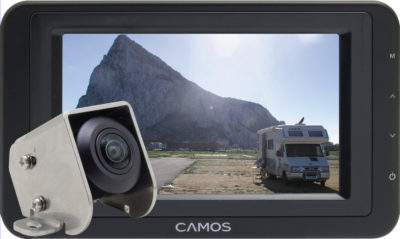 Or, if your existing system has Bluetooth connectivity, you could improve the sound quality with a portable speaker. Or replacing and/or supplementing existing speakers with newer models can make a big difference in your motorhome.
There are other forms of entertainment, too. How about a satellite TV system?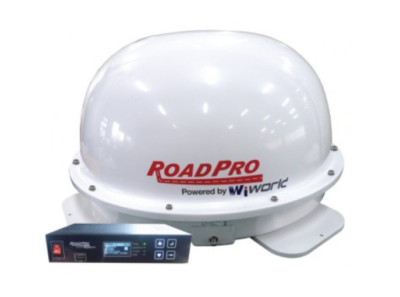 Contacts include…
Alpine Electronics: www.alpine.co.uk
Halfords: www.halfords.com
JVC: https://uk.jvc.com
Kenwood: www.kenwood-electronics.co.uk
Capital Outdoors: www.capitaloutdoors.co.uk
RoadPro: www.roadpro.co.uk
10. Wrap it!
Vinyl wraps are still fairly new for motorhomes and it may sound extreme, but we know many owners would consider a designer wrap when we asked a couple of year's back.

And already the more bespoke end of the campervan sector is awash with some truly individualistic designs (be wary, though – the more "specialist you go, the more you might be harming your vehicle's long-term residual values/appeal to future buyers).
Simply, in automotive terms, a wrap is an added vinyl-type coating that can completely transform the look of your vehicle. You can go for an all-over fitting, or just part of your motorhome (sides, roof, doors) – interiors as well. And you can even suggest your own designs.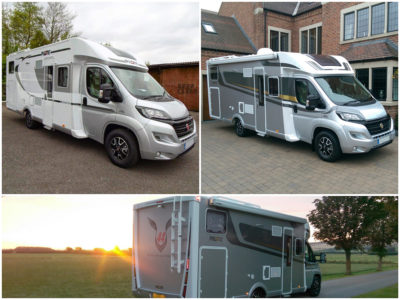 The other advantage of such a wrap is it helps prevent the almost inevitable, annoying damage caused by stone chips. And, if you don't want a fancy design, you could always go for a clear wrap. Alternatively, even adding a small decal could spice up your motorhome's exterior.
 Contacts include…
Angel Design: www.angeldesignuk.com
Arlon Graphics: www.arlon.com
Itsawrap: www.itsawrapuk.com
PVL UK: www.pvluk.com
Things to consider when modernising your motorhome
Don't go DIY crazy
There are plenty of "how to" videos and articles out there but do be careful not to go OTT with the DIY.
It can have an impact on the resale value when it comes to selling on your motorhome to a dealer or second-hand buyer.
Plus, be sure to let your motorhome insurer know if you're intending to make any significant fixed modifications to your vehicle that could affect its performance or value.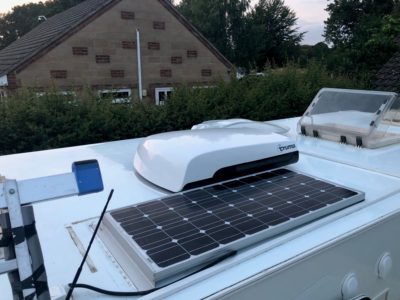 Start with a motorhome service?
An ideal starting point before considering any modernisation work is getting your motorhome serviced. An Approved Workshop Scheme engineer will not only carry out a full inspection, but they'll also be able to give advice about any modernisation work, as well as pointing out any possible future hazards.
You might also be able to make some savings if you book your motorhome in for some work at the same time as it's being serviced.
Approved Workshop Scheme: www.approvedworkshops.co.uk.
Over to you…
Got any advice or experience of modernising your motorhome you'd like to share? Please feel free to add a comment below.
Cost to insure: *
---
factfile
| | |
| --- | --- |
| Model | |
| Base vehicle | |
| Axle type | |
| Dimensions | |
| Shipping length | |
| RRP | |
---
Search our blog
---