When on your motorhome or caravan holidays there's nothing better than heading out to explore the area and then sitting back and watching the world go by when you return to your leisure vehicle. But it can be easy to let your guard drop when you're on holiday.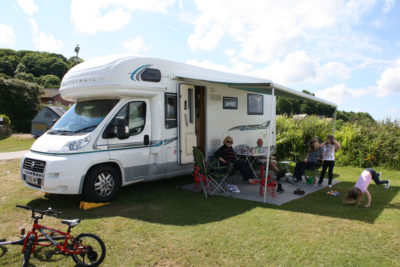 As well as protecting your pride and joy from being stolen, be mindful that caravans and motorhomes can also be a target for break-ins. Here, we give you some top tips for staying safe on site, as we expect campsites to be super busy this season.
Secure your vehicle
Remember once you're pitched up to secure your caravan or motorhome with wheel locks, a caravan hitch lock, and even a steering wheel lock. The last thing you want is to come back to an empty pitch after a day out!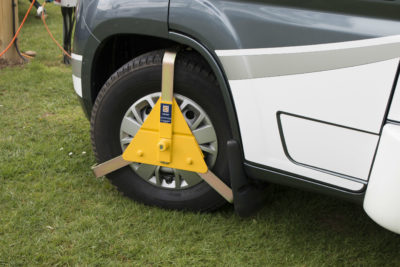 Keep valuables out of sight
Don't leave expensive items like laptops, tablets, camera equipment, jewellery etc on view and consider leaving things you don't really need at home. If you can't take them with you, lock them away in a locker, under the bed or seating or even a lockable compact safe. A caravan safe can be used to lock away valuables or important documentation, such as passports if travelling abroad.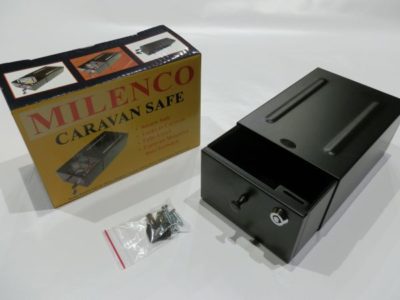 Or there are these small containers called Can Safe which look like a tin of food – perfect to disguise small valuables! Please note however, never store spare motorhome or caravan keys inside the safe as that could invalidate your insurance in the event of theft.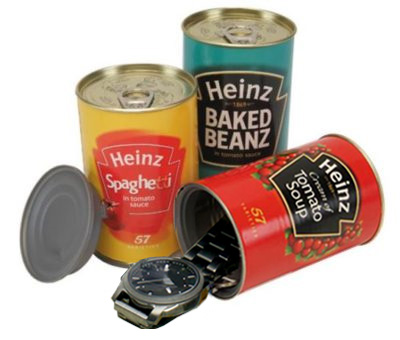 Don't be tempted to leave high-value belongings in your awning when you're out for the day, such as a barbecue. You can also make your awning a little more secure by locking the zips together with a small padlock.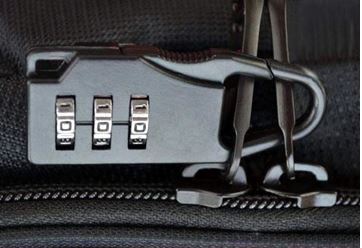 Take valuable things to bed with you at night such as your motorhome or tow car keys, and don't leave wallets etc near windows.
Alarms
Consider a motorhome or caravan alarm that has door and locker sensors. So when you're sleeping it will go off if someone tries to get inside your 'van. There are also door and window alarms which you can attach to your vehicle's windows and if the magnetic contact is broken, the alarm sounds.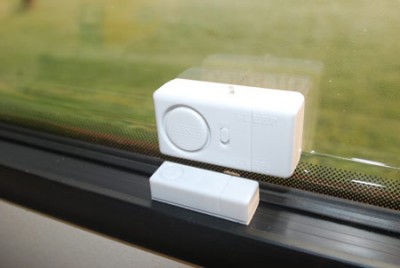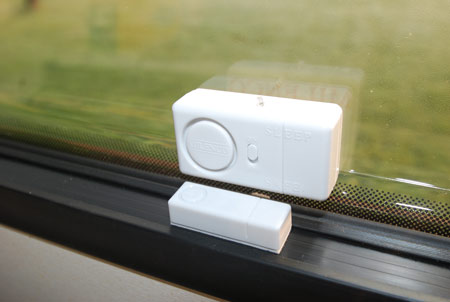 Portable motion sensor alarms can also be used in your awning to alert you to an intruder during the night. There are even compact alarms that you can fix to items like bikes, and lanterns with a light sensor and alarm.
Door locks
An extra lock on your motorhome or caravan habitation door and locker doors will put off a would-be thief and make your vehicle more secure.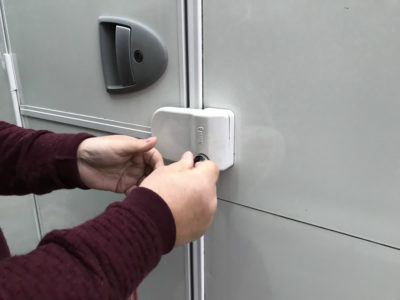 Keep windows closed
Although it might be tempting to leave your doors and windows open when you leave your caravan or motorhome for the day, or even when you nip to the shower block, a thief could be in and out in minutes. Consider whether you want to leave windows open on a hot summer's night too!
Keeping blinds down when you're away from your 'van will also keep your belongings out of view and a window lock will make an attempt at entry more difficult.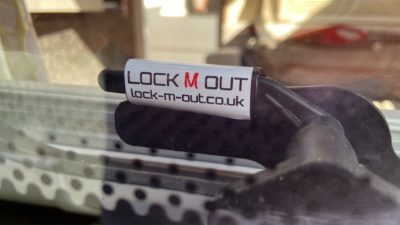 Lighten up!
Thieves don't like to be seen! So, keep your pitch well lit, by using your awning light at night and pitching up close to campsite lights, if possible. Small garden solar lights are also a good way to illuminate your pitch.
Secure those extra wheels
If you're taking bicycles or electric bikes on your holidays make sure you have a substantial lock to secure them when they're not in use. There are a wide range of chains, bike locks and D locks on the market. Look for products which meet the Sold Secure standard.
Property mark items
Mark your belongings with a UV pen with your name and postcode so if stolen and recovered you might be able to get them back.
The VIN Chip Plus kit includes a microdot pen, containing 2000 microdots in a UV glue with your VIN number written on it. When dry a UV light will illuminate the markings.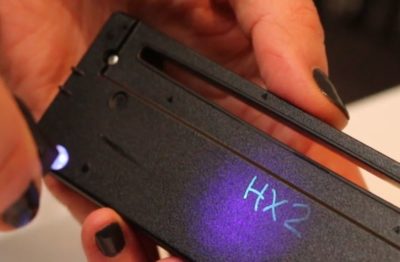 Know your neighbours
Get to know your neighbours or even go caravanning or motor homing with friends. They can watch your vehicle while you're away. And if you see anyone suspicious, let the site warden know.
Insurance considerations
Remember, a specialist caravan or motorhome insurance policy will provide cover for your caravanning equipment and accessories. Just make sure you include their value in your sums insured. High-risk items like electronic gadgets, bikes and jewellery will not be covered but might be covered under your home insurance or travel insurance.
Over to you
Got any other tips for staying safe on site when on your caravan or motorhome holidays. Feel free to share by adding your comments in the box below.
And remember to have lots of fun and enjoy your freedom!
Cost to insure: *
---
factfile
| | |
| --- | --- |
| Model | |
| Base vehicle | |
| Axle type | |
| Dimensions | |
| Shipping length | |
| RRP | |
---
Search our blog
---