Fortunately jack-knifing and caravan snaking claims are relatively uncommon amongst Caravan Guard customers (accounting for just 1.6% of claims in 2012), but when they do happen, the damage to the caravan can prove catastrophic.
We reviewed snaking and jack-knifing claims during 2011 and 2012 and found that the average claim cost came in at over £8,000!
In extreme cases the driver can lose all control, which will likely cause a serious road accident. These kinds of incidents cause major disruption and can lead to other road users being caught up in the collision.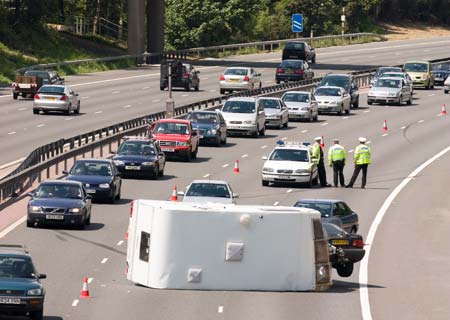 We've come up with a few things you can do to help make sure you're not one of the unfortunate few affected by snaking and jack-knifing.
What is caravan jack knifing?
Jack-knifing occurs when a tow vehicle and the caravan lose sync and remain fixed at an L or a V shaped angle, stopping both car and caravan from going any further. It's caused when the caravan loses grip on the road known as traction, and is forced to pivot heavily on a towbar. Unless the caravan hits something solid, like the back of the towing vehicle, this can continue for some time.
What is caravan snaking?
Snaking is very similar to jack-knifing in the way the caravan is destabilised and moves horizontally around the towing hitch axle causing it to veer side-to-side. Caravan snaking is caused by sudden swerves, high speeds and crosswinds mainly but noseweight, tyre blow outs and poor towing can also be a factor.
What can be done to prevent caravan jack knifing and snaking?
Caravan safety devices have come on leaps and bounds in recent years and do a great job in helping to reduce caravan insurance premiums. A standard caravan stabiliser may produce a more smooth towing experience. Caravan Guard reward customers who fit electronic anti-snaking stabilisers such as AL-KO's ATC or BPW's IDC with an insurance saving of 5%.
The AL-KO Anti-Snake Trailer Control (ATC) system is fitted to many new and recent caravans and or be retrofitted to an older model for around £587*. The ATC electronic anti snaking device automatically applies the caravan brakes if it detects a snaking motion begin to occur. See the AL-KO anti-snaking device in action. AL-KO stabilisers retail from around £239 and are designed to give drivers more steadiness when towing.
Similarly, Tyron safety bands help drivers to stay in control and avoid an accident in the event of a blowout and will get you a 5% discount on your caravan insurance with Caravan Guard. A tyre blowout can happen as a result of snaking, putting huge pressure on the caravan tyres.
Tim Booth, Leisure Vehicles Officer for the AVCIS Vehicle Crime Intelligence Service, highlights another less obvious cause for snaking and jack-knifing.
"There is some concern that many of these incidents are in fact caused because the driver of the towing vehicle isn't aware of substantial vehicles such as lorries approaching from behind at speed. When larger vehicles pass they can have a de-stabilising effect on the trailer and can cause the unit to 'pitch'."
Therefore, caravan extension towing mirrors  are also worth investing in as they will allow you to see large vehicles that are about to overtake and cause crosswinds. As Tim Booth puts it, "you can only respond to the effect of these vehicles if you see them coming."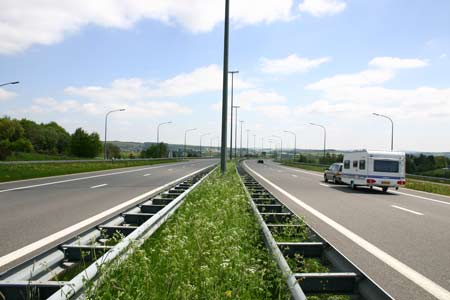 Loading and noseweight
More important than the latest safety gadgets is good towing practice.
If the caravan and towing vehicle are improperly balanced, the caravan may be more inclined to sway into a jack-knife position. This is easy to avoid though, simply load weight in the caravan evenly, putting the heavier objects as low to the ground as possible in order to create a low centre of gravity. See our article on correct caravan loading.
Tim added: "A 'nose down' unit can in itself cause pitching to occur and can also suggest that the noseweight  exerted onto the towing vehicle is in excess of that recommended by the tow bar manufacturer (on newer tow bars the loadings are on a plate fitted to the towbar) so check with a gauge to confirm that all is well."
85% rule and excessive speed
Remember that the towcar and caravan should be a good match – find details of the 85% rule on our correct caravan loading article via the link above. Excessive speed is a major cause of snaking and jack-knifing amongst caravan owners, which is why it's so important to know the speed limits on all UK and European roads.
A pre-departure checklist to avoid snaking and jack knifing could be:
Is the caravan load correctly distributed and firmly secured?
Check caravan tyres and towcar tyres. Are tyre pressures correct and are the tyres in good condition?
Is the trailer correctly coupled to the tow ball or pin?
Is the caravan noseweight ok and is the coupling height level?
What can I do if you do experience snaking?
Let other roadusers know there's a problem by creating a safe zone – command as much of the lane as possible to prevent cars from overtaking
Lift feet off the pedals – slow right down, allowing the caravan to fall back behind your vehicle
Pull over when under control, switch hazard lights on and find out the caused of the snaking
Don't be tempted to remain on hard shoulders for long – they can be dangerous places to be.
By fitting recommended safety devices you can not only save money on your caravan insurance premium but it will also help to reduce the risk of jack-knifing and snaking.
Over to you…
Have you ever experienced jack knifing or snaking? If so, tell us about it and share any tips to help others avoid it in the future. Simply enter your comments below.
*The cost may vary from service centres, available direct from AL-KO for £587 fitted at its factory in Warwickshire, or for an additional £100 a home fitment can be arranged for all UK mainland addresses. Orders can be placed by email or online
Cost to insure: *
---
factfile
| | |
| --- | --- |
| Model | |
| Base vehicle | |
| Axle type | |
| Dimensions | |
| Shipping length | |
| RRP | |
---
Search our blog
---