Winter is on its way, so it time to prepare your caravan or motorhome for the colder and wetter months ahead.
Get advice for continuing touring in winter or laying up your caravan or motorhome for winter.
Even if you still have some winter touring trips planned you're going to need to protect your 'van against the effects of damp and frost and be prepared for poor weather.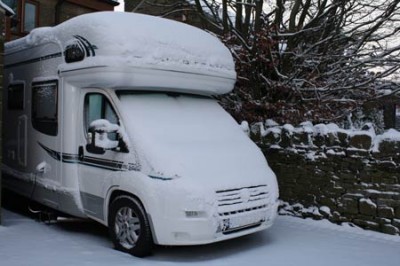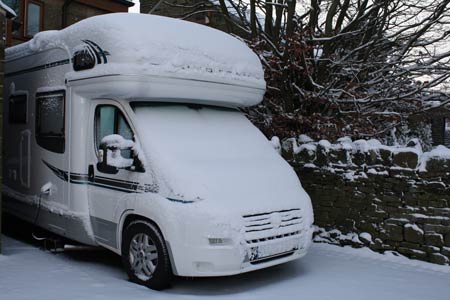 And if you're planning to rest up your caravan or motorhome for the winter you'll want to make sure it's stored securely and safely to protect it from burglars, the elements and to reduce the risk of damp, mildew and corrosion – as well as the damage frost can cause, outside and in.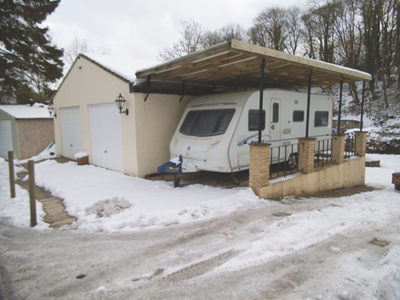 Here are some things you need to consider – whatever the winter weather.

If you're still touring in winter
Make sure your tow car or motorhome service record is up-to-date. At the very least, have your battery checked over by your local dealer or garage.
Check your tyres are in a good condition, correctly inflated and consider fitting winter tyres. These are a legal requirement in some countries.
Check your oil, coolant and screenwash levels before every trip.
Make sure all lights are working correctly and are clean – the days will be shorter, so you need your exterior lights in tip-top order.
Use a maintenance spray on hinges and external sockets to keep things moving and to prevent corrosion.
Use bowls of salt crystals to soak up excess moisture in between trips.
Fully drain down the water system between uses so there's no danger of any water freezing and causing the pipes to burst. It's a condition of Caravan Guard's insurance policies to drain down water systems or sanitary systems between 1st November and 15th March when the caravan or motorhome is not use to make sure any such damage is covered.
Have a "winter emergency kit" in your tow car or motorhome in case you get caught out by bad weather. Include things like an in-car phone charger, ice scraper, spade, torch, warm clothing, gripmats or rubber flooring for muddy or snowy ground, first aid kit and breakdown number. Does your tow car or motorhome breakdown policy include "stranded in mud" cover if you get stuck on a boggy campsite? Caravan Guard's motorhome breakdown policy does.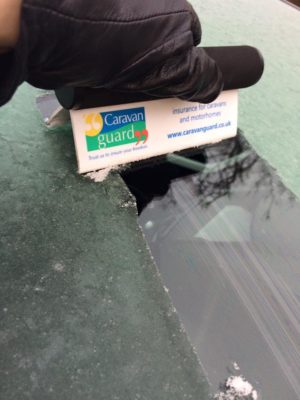 Caravan or motorhomes laid up for winter

Book in for a service and/or get all those little repair jobs done that you've been promising to do all year.
Inside look for any signs of water damage, like discolouration or wrinkles in the walls and feel for any soft spots, around windows, doors, vents and any other openings. Always use the right type of sealant to make any repairs, and if you're not sure, or your 'van is within warranty, then talk to an authorised repairer.
Clean and empty the inside of your caravan or motorhome:
Remove all valuables, foodstuffs, empty the fridge and if possible take out soft furnishings and store them somewhere dry at home. Not only will storing cushions away from the caravan make sure they're in good shape for the new season, it can also act as a deterrent to thieves –  a caravan without furnishings is worth much less. Or at least pile cushions in the middle of the floor to get them away from any dripping condensation on the windows.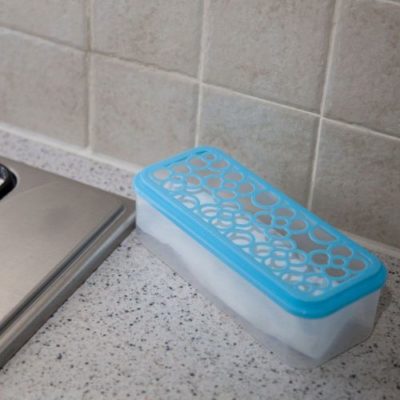 Wipe down walls, keep the fridge door and lockers and drawers open to allow air to circulate, and place moisture absorbing crystals around the caravan.
Give the outside a thorough clean and then thoroughly inspect seams and seals inside and out for any signs of water damage, looking carefully for any cracks, gaps or loose/damaged sealant. Inspect the roof, sidewalls, and around windows and doors. Replace any damaged seals.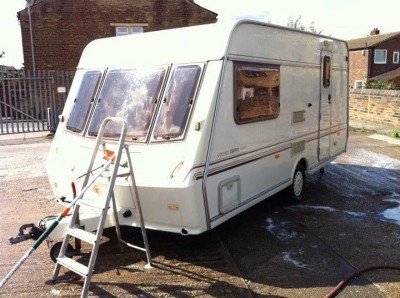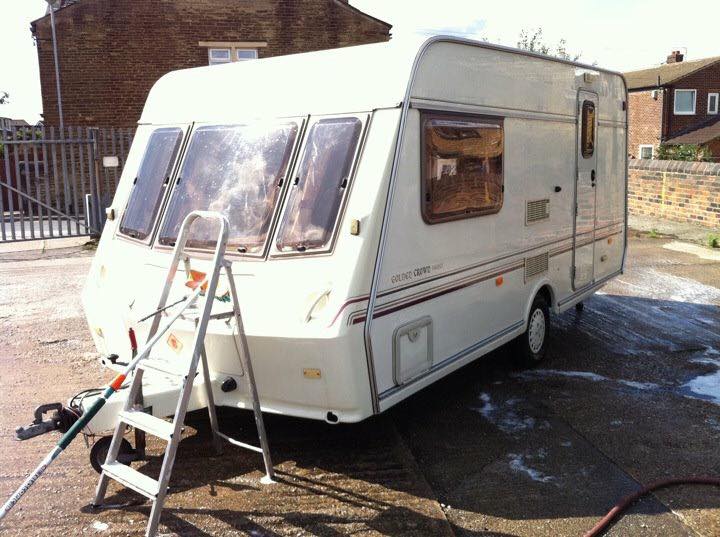 Spray your caravan with an overwintering solution to help repel water, dirt and algae, without the need for a caravan cover.
Check the caravan or motorhome tyres for any cracks, bulges, or other damage and check the tread depth is a minimum of 1.6mm. Look to replace any tyres that are more than five years old when you plan to start touring in the spring or summer.
Completely drain down the water system and sanitary systems, firstly to make sure water does not freeze and crack pipes and fittings, and secondly to comply with your insurance policy stipulations.
Open all interior and exterior taps and allow onboard pumps to run for a short time so get rid of any excess water. Leave them open for the duration of the storage period.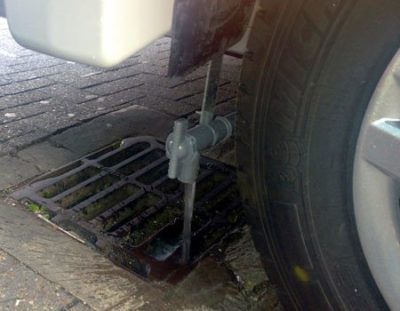 Switch off the pump, empty the waste tanks, drain the toilets and empty the toilet cassette. Apply some maintenance spray to the cassette seal and blade to avoid corrosion or sticking over the winter months.
Leave the shower head hanging and pour a little salt or anti-freeze down the kitchen and washroom plug holes, to avoid any residual water in the U-bends freezing.
Remove and disconnect gas bottles to avoid accidental leakage of gas through the system over winter, and to reduce the risk of fire. Store bottles safely and make sure any taps are turned to the closed position.
Make sure batteries are kept charged, particularly if you need to power an alarm or tracking device. Keep a check on the charge every month or so. Some tracking devices will alert you if power failure has occurred but by then it could be too late.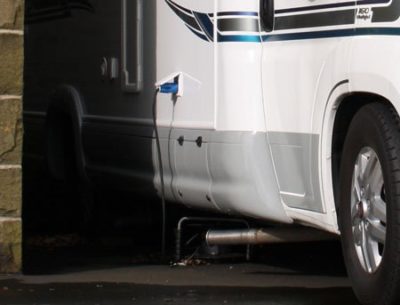 If your unit is stored near a hook-up or mains power supply, then a regular charge will help to keep your battery in a good condition. Alternatively charge it periodically at home.
If you don't have such electronic security devices and all power is to be turned off in the caravan or motorhome then it's a good idea to remove the leisure battery and keep it in your house or garage on a trickle charge, so it's kept in a good condition over the winter.
Store safely and cover up
A breathable caravan or motorhome cover is a good way to protect it from the elements. Earlier in 2016, 40% of caravan owners said they owned a cover in our caravan cover poll.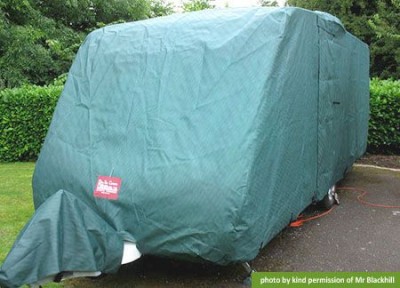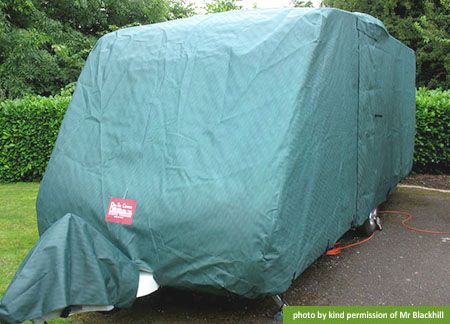 If you are using a cover, get one that fits properly and is breathable – slight chaffing can cause small unwanted scratches on bodywork and windows and you want to keep fresh air in but wind, rain and snow out!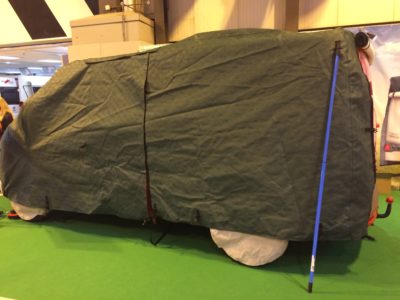 If you don't have a specialist cover try not to park up under a tree, which could result in sap and debris falling on your 'van. Also avoid parking under branches, near bushes, or anything else that could cause damage to the bodywork in the event of stormy weather. As mentioned before, applying an overwintering solution will give your paintwork some protection.
Leaving your caravan or motorhome in the same position all winter could cause a lot of pressure on a single area of your tyres. Therefore, to keep your tyres healthy consider moving the caravan or motorhome a little bit each month. Or jack it up to rotate the wheels.
Caravan winter wheels replace your existing wheels with metal stands. These have the added benefit of making your caravan more secure as it cannot be easily towed away. But for added security make sure the tourer's normal wheels are stored securely away from the caravan. Or you could use ground anchors to secure your caravan and keep your caravan jacked on an axle to prevent pressure on the wheels.
When your caravan or motorhome is laid up for the winter it's vitally important all windows, doors, and skylights are locked.
Make sure all security devices are engaged, so your insurance remains valid, and if you have a tracking device or alarm which uses battery power to operate then you may need to keep an external power source connected to avoid these devices running flat, or at least give your caravan leisure battery a regular charge.
Remove any valuable documents like the ownership handbook, insurance certificates and registration documents and keep the caravan or motorhome keys hidden out of sight in your home.
Over to you….?
What steps do you take to protect your caravan or motorhome in winter? Share your tips in the comments box below?
Cost to insure: *
---
factfile
| | |
| --- | --- |
| Model | |
| Base vehicle | |
| Axle type | |
| Dimensions | |
| Shipping length | |
| RRP | |
---
Search our blog
---