Buying a new or used motorhome is an exciting time, and possibly one of the most expensive purchases you'll make in your life. So, you'll want to make sure you know how everything works to enjoy your new motorhome to the full.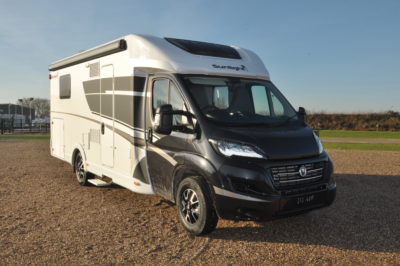 Here's our top motorhome handover tips to make sure you get the most from your buying experience.
Before you collect your motorhome
If you're buying a used motorhome from a dealer then you've probably had a chance to look around it. From putting down a deposit, the collection could be as little as a few days.
The dealer will need time to check the motorhome over, perform any service or MoT work that you have agreed and then arrange the Vehicle Excise Licence (VEL).
If you've ordered a new motorhome then you'll have to wait for delivery to the dealer and a pre-delivery inspection (PDI) will need to be carried out. The dealer is responsible for the PDI before they hand it over to you and should check for any faults or issues with the motorhome and put these right.
Motorhome finances
Before the day of collection you need to make sure you have agreed with the dealer how you will pay for your motorhome. Most dealerships will be able to offer finance by way of a PCP or HP agreement.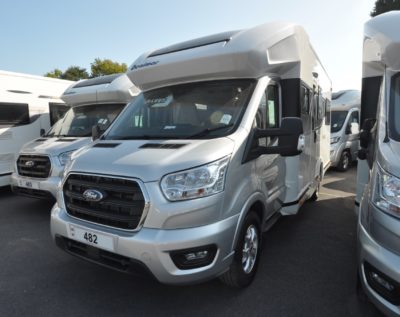 If you're paying the balance through your own finances then you can pay on a debit or credit card. It's possible to pay the full balance on a debit card. If you're not happy to do this then you can pay by bank transfer through your bank to the dealer's bank. The funds will need to be cleared before you're able to drive away in your new motorhome.
Motorhome insurance
You also need to make sure you have a motorhome insurance policy in place before you jump in the cab. It's a legal requirement to hold at least third party cover before you drive your motorhome on a road.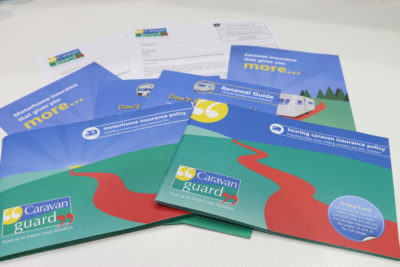 When obtaining motorhome insurance quotes check the level of cover. Caravan Guard offers fully comprehensive cover, which also includes UK breakdown as standard.
Some dealerships will provide a complimentary 14-day drive away policy to get you started, but you must make sure you find suitable annual motorhome insurance cover after this time.
The paperwork
On the day of the motorhome handover make sure you take all the paperwork you have given by the dealer. Take with you any agreement you have made, terms and conditions you have agreed to and proof of your motorhome insurance.
If you're taking out finance you'll need proof of identification and address.
If you have a part exchange, don't forget to take the log book (V5C) for a motorised vehicle or even the CRiS registration document for a caravan, and of course any keys and manuals.
It's also a good idea to write a list of the things you need to check during the handover process, and tick them off as you go.
The motorhome handover
This is the exciting part! When you go to collect your new motorhome you'll receive a handover from the dealer.
This handover is very important as it will make sure you understand how your motorhome works.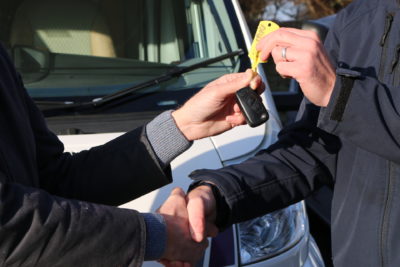 Whilst most motorhomes are fundamentally the same, some have different workings depending on the manufacturer, and if you're a newcomer to motorhome life then this is crucial. One top tip is to film the handover process from start to finish on your Smartphone or a small action camera. That way you can watch the video back later as you're bound to forget something!
During the motorhome handover there are a few main things to take particular note of and how they work:
Exterior motorhome handover
It's important to know where certain features are externally and how they might work. These include:
Towing eye locations
Jacking points
How to check the tyre age and condition
Where the weight plate can be found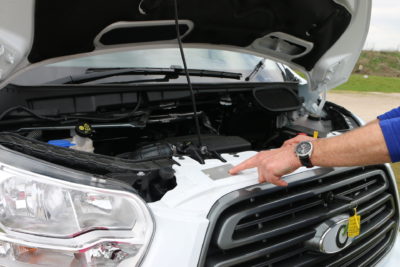 The location of the starter battery
Waste water outlet
Fresh water filler and 12v pump if fitted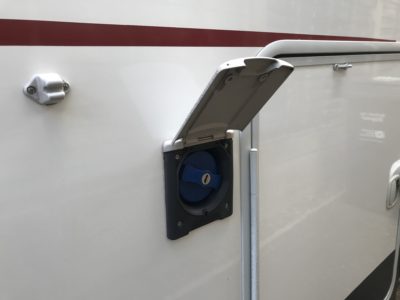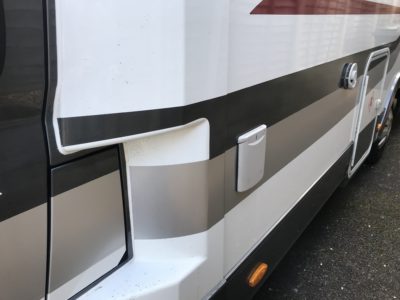 Gas locker
Wind out canopy if fitted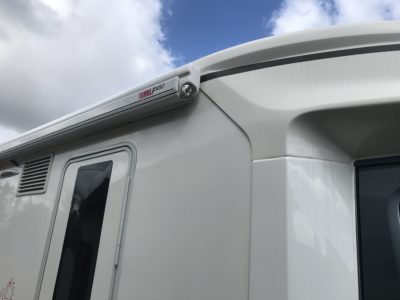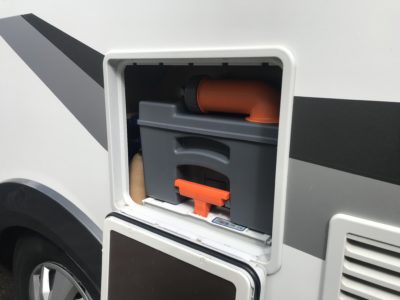 Make sure your motorhome handover explains all the exterior features. You need to be confident about how to fill up with fresh water, how to turn your gas on and off, how to remove your toilet cassette for emptying, and how to make sure you correctly load your motorhome within its weight limits.
Also, don't forget to check the motorhome exterior for any scratches, dents or damage, as once you drive away it'll be hard to prove these weren't there before.
Interior motorhome handover
There's a lot to learn about the inside too, in both the cab and the habitation area. Make sure you're shown:
The location of the leisure battery and fuses
The main control panel of the motorhome and its functions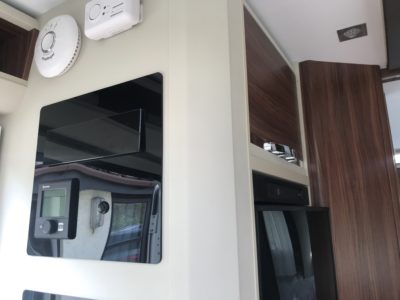 Heating and hot water operation
How to use the water pump
How to empty the waste water
Using any TV aerial/ WiFi or satellite system
How to operate the fridge and freezer
How to drain down
How to set up the travel seats and seatbelts
How to make up the beds and operate the dropdown bed (if fitted)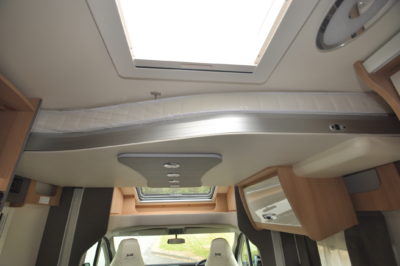 Your motorhome should come with a set of manuals too, so make sure you have these to refer to later.
Check all options and extras
During the motorhome handover, take time to check all the options you've ordered are fitted and that all factory fitted options and extras are in place. These could include an automatic gearbox, solar panel, aerial, wind out canopy and air conditioning.
If the dealer has agreed to fit extras, such as an alarm or tracking device, or it's part of the deal you agreed, make sure they're fitted and you're show how they work. This is where your paperwork will come in handy from your original order.
In the case of the tracking devices it's important to ask if the device needs to be registered with the tracking operator or whether this has been done for you. Chances are you'll at least need to provide the operator with your phone number so they can contact you in the event of theft. Also you may need to pay a subscription to make sure the device is tracked by the device's monitoring centre.
If you agreed a weight upgrade then check your weight plate to make sure it's been done.
Motorhome warranty and servicing
Once you've completed the handover to your satisfaction, confirm the warranty terms of your motorhome.
A dealer might provide a warranty of three months to three years on a used motorhome, depending on its age and the dealer. These are often aftermarket warranties through the likes of the RAC.
Check the terms of your used motorhome warranty and that it covers you adequately. You might be covered under the manufacturer's water ingress warranty, depending on the age of the motorhome. With a new motorhome the warranty will generally cover you for two to three years and the water ingress warranty will be between six and 10 years.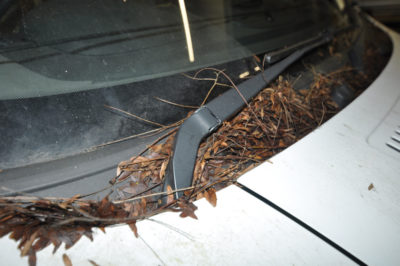 If you're buying a used motorhome, you might have negotiated a service in the purchase. A motorhome needs a habitation service for the living area and a mechanical service for the base vehicle. Check you receive the service history of your motorhome and are familiar with when the next service is due. A new motorhome shouldn't need a service for 12 months, depending on your mileage. If your dealer offers servicing then try negotiate on your first service.
Your first night in the motorhome
Once you've had your motorhome handover, signed all the documentation and you're ready to drive away in your motorhome, it's a good idea to book a night close to the dealership – some even have their own camping grounds or campsites nearby
This way you can have a shake down and put in to practice everything you were shown. There are several dealers that offer a free night on a local caravan site, such as Lowdhams and Brownhills. This means if discover any issues, or need some support, you're not far from the dealer for help.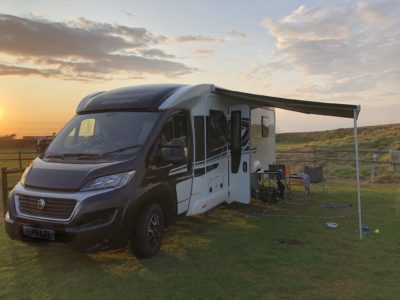 If you do discover any faults then make a note and put them in writing to your dealer. You can then agree a time to have these repaired or replaced under warranty. It's not uncommon to discover some warranty issues, even on a new motorhome.
After the first few trips out in your motorhome you'll become familiar with it, develop a routine and find a place to store all your items.
That initial bewilderment at how it all works will soon disappear and you can enjoy motorhome life.
Over to you…
Got any motorhome handover tips you want to share? Please feel free to add your comments in the box below.
Cost to insure: *
---
factfile
| | |
| --- | --- |
| Model | |
| Base vehicle | |
| Axle type | |
| Dimensions | |
| Shipping length | |
| RRP | |
---
Search our blog
---