If you're a first-time caravan owner looking for caravan insurance, the different policies on offer and the many benefits promoted can be a little daunting.
So, here's our handy guide to caravan insurance to help simplify some of the jargon and get you ready for your first quote.
Take cover
Let's take a look at what caravan insurance actually covers you for and why it's so important.
First of all, a caravan policy should cover not just the caravan but also all of your extra items of equipment, from your awning to gas bottles, TVs, BBQs, outdoor furniture, pots and pans, security devices and bedding.
Theft cover
Unfortunately, a touring caravan with no security is very easy to steal. All thieves need is a vehicle with a tow bar to tow away your pride and joy. And let's face it, unlike cars and motorhomes, caravan's don't have a registration plate so it's quite hard for police to identify a stolen caravan without getting close, so recovery can be difficult.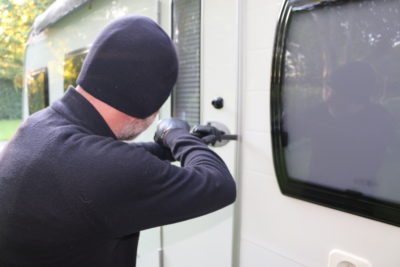 The most common caravan security devices will slow a thief down but are not infallible.
So to avoid being out of pocket in the case of theft it's well worth having caravan insurance to pay out for a 'new' 'van should yours go missing.
Accidental damage
Mishaps whilst towing and manoeuvring a caravan do happen. Even the most experienced of caravanners still have the odd reversing scrape – that low-hanging branch on a tree won't be picked up by any towing mirrors or reversing camera!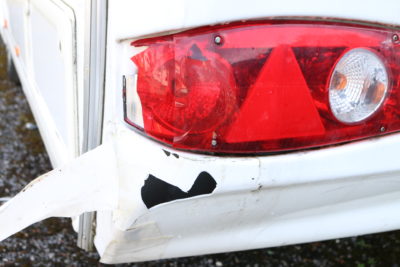 And let's face it, touring caravans are built to be light so aren't are built to take big knocks. Even a slow speed prang could cost many hundreds of pounds to repair. More severe panel damage or panel replacement will run into thousands.
Road accidents
Some road accidents such as those arising from snaking, bad loading, or perhaps due to high winds or crosswinds from other vehicles could result in a complete write-off. Just like a car, you wouldn't want to have to fund these repairs and replacements out of your own pocket and that's why caravan insurance makes a lot of sense especially when you've invested a significant amount of money in buying your 'van.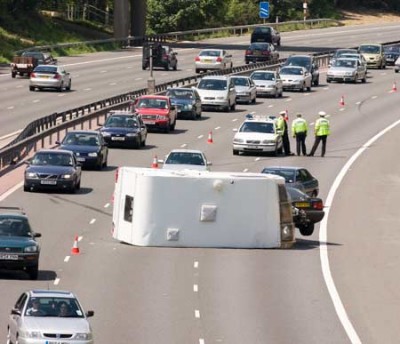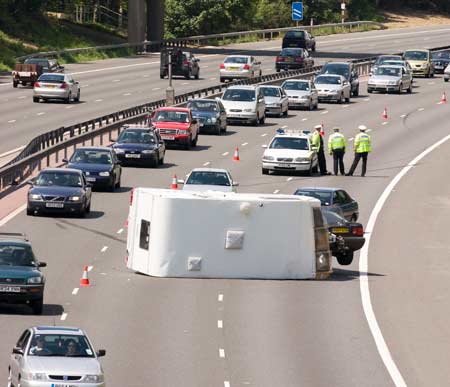 Caravan insurance isn't a legal requirement, your car insurance should cover third-party liability when towing your caravan. This means if your caravan was to snake and catch another person's car whilst being towed, it'd be your motor insurance policy that would pay for repairs to that car. However, your motor policy would not pay for repairs to your caravan, which is why caravan insurance is important.
Storm damage
Unfortunately the UK can often be battered by high winds and stormy weather, when you're caravan is on the road, in storage, or pitched up on holiday. Over the years we've seen many storm-related claims, ranging from severe panel damage caused by giant-sized hailstones to skylights and windows ripped off by strong gusts, to punctured panels caused by blown awning poles. Of course, it's comforting to know a policy like Caravan Guard's will not only pay for the repair or replacement of your storm damaged caravan but also your awning – a very common claim! Flood damage is also covered.
There are many other benefits that come as standard on our caravan insurance policy too, such as emergency assistance and recovery. This will get your caravan to a repairer after damage if it can't be towed and even includes costs of repatriating a caravan should an accident happen abroad.
Other caravan insurance benefits
There's also cover for locks and keys, for the various doors and lockers around your caravan, and any security devices, should they be lost or stolen.
We know often there might only be one person capable of towing a caravan in your party when on holiday – that's why we include ill driver cover to pay for someone to tow your caravan home from a UK destination if the only driver becomes too ill to drive.
We even give you family and friends cover to protect your caravan whilst in their care should you be generous enough to lend it to them.
Our policy also includes £2.5m public liability cover – this gives protection for you against any legal claims made against your after an incident in or around your caravan that leads to accidents, injuries or damage to third parties or their property. Often seasonal pitch caravan sites will ask to see proof that their site users have this cover.
Types of cover options
There are a number of cover options to consider. The first is choosing your cover basis. We offer two options here. The first is market value cover, which means insuring your caravan at its current retail value and then receiving a claims payout equal to the caravan's and/or its equipment's current second hand value at the time of the loss – if there is significant damaged that cannot be repaired, or if stolen and not recovered.
Secondly, for caravans less than 15 years old we offer new for old cover. Here we ask a caravanner to insure their caravan and equipment at the value it would cost to replace them with new.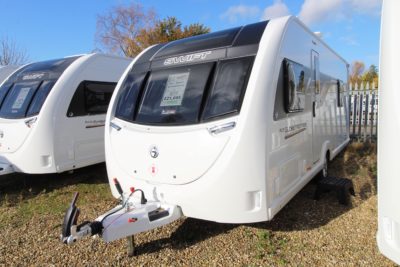 A key point to note here is that due to inflation and caravan manufacturer price increases it's likely this value will increase year on year so you will need to review your sums insured annually.
The good bit is, however, that if your caravan and its equipment is damaged beyond economical repair we'll replace your caravan and that equipment with brand new models. In the past, this has led to many caravan owners getting a substantial upgrade on their older caravan. It's a fantastic benefit but obviously, due to insuring at brand new prices, it's more costly in terms of insurance premium than market value cover.
Other options to consider include adding cover to take your caravan to Europe, emergency accommodation cover to fund hotels or caravan hire should your caravan be damaged or stolen mid trip, and then legal expenses cover.
Then there's how much you want to set your excess at. The excess is the amount you pay in the event of making a claim. You can set this at £100 or pay more to reduce the costs of your caravan insurance premium.
Caravan security
Your policy will stipulate a minimum level of security needed for theft cover to be in force. With Caravan Guard this minimum is a wheel clamp and hitchlock – these mechanical devices can usually be picked up from any caravan accessory shop or website. They must be fitted every time the caravan is detached from the tow car and left unattended.
Note, many caravans these days come with an axle wheel lock receiver. This is usually spotted as a yellow plastic plug visible between the gaps in your caravan's alloy wheel.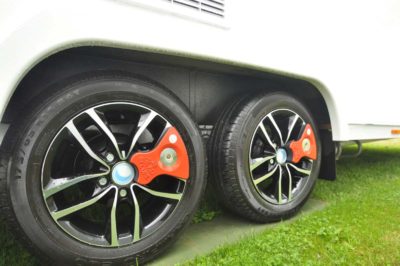 A locking insert is sometimes supplied with a new caravan as standard or can be bought as an extra – the most common device of this type in the UK is called the AL-KO Secure portable wheel lock. This lock and a number of others that fit to the receiver can be accepted instead of a wheel clamp and will attract a caravan insurance discount.
We might ask owners of higher value caravans to fit extra security such as tracking devices or upgrade their storage location security.
Caravan insurance savings
Unlike standard car insurance where often first-time drivers face huge insurance premiums, first-time caravan owners aren't met with such high cover prices.
There are a host of savings available for new owners. A quick way to rack up some caravan insurance savings is through security and safety devices.
The AL-KO Secure device and other accepted axle wheel locks mentioned in the security section above will get a big premium saving.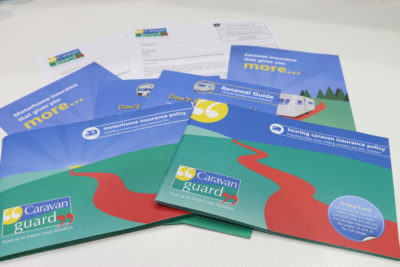 Tracking devices, alarms, reversing cameras all get a tasty saving. Your caravan might also have AL-KO's ATC (automatic trailer control), a device that detects the early stages of snaking and applies the brakes accordingly automatically to reduce the likelihood of snaking – this gets a discount too.
Of course, they say there's no substitute for experience but there are some ways you can get an introductory no-claims discount. This includes if you have recent experience driving a large vehicle such as a transit van, taking a towing course, or holding an HGV licence.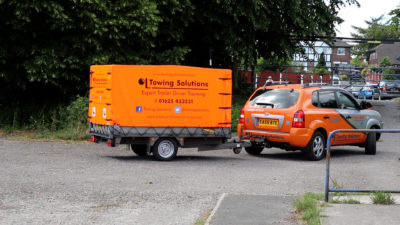 We also offer a discount for caravanners over 30 years old.
What should I expect caravan insurance to cost?
It's very hard to say as there are so many factors taken into account, as well as the cover options you select, the amounts you insure for, and the savings you've qualified for.
The storage location postcode of your caravan and the security in place at that storage location, be it at home, in a secure storage facility or on a seasonal caravan pitch will all have a significant bearing on your insurance cost. Storage security could include CCTV, perimeter fencing and control access on a storage site or something as simple as a locked gate on a home driveway.
Our premiums start below £100 but we insure some £50,000 plus models such as Airstreams for more than £1,000.
What do I need to get a caravan insurance quote?
It's really not too complicated to get a caravan insurance quote, just make sure you've got the following to hand:
The caravan make, model and berths, e.g Bailey Phoenix 420, two berth.
The new or used value of your caravan and its equipment. Equipment values soon add up so make a list of all your equipment and calculate it to make sure you set the insured value sufficiently. You don't want to underinsure. Our advisers will help you check the value of your caravan if needed.
Storage location address and the details of security features in place there.
Caravan security devices. What do you plan to fit and find out what your caravan has as standard. Does it have the AL-KO Secure receiver and lock? Does it have a tracking device you could subscribe to?
Caravan safety devices. Does it have the AL-KO ATC electronic anti-snaking (you'll see the ATC logo and LED indicator on your caravan A Frame cover) or perhaps a reversing camera or tyre pressure monitoring system?
When you plan your caravan cover to start (usually your pick-up date)?
If going on cover you'll need to supply the caravan's CRiS number or VIN number. This is usually on a window sticker or etched onto your caravan window and has 17 digits.
We hope you find this guide useful. Caravan Guard insurance welcomes new caravanners with open arms. Get a caravan insurance quote online or perhaps, better still, as a newbie, why not call our expert, friendly team for a chat?
This article provides a brief summary of the policy cover and options that are available to you. Your schedule will confirm cover features and levels applying plus any security you have agreed to fit. Benefits and discounts are subject to change and are subject to terms and conditions, cover level, and underwriting criteria. Minimum premiums apply. For more information, you can download a specimen policy or policy summary from our tourer policy documents section.
Cost to insure: *
---
factfile
| | |
| --- | --- |
| Model | |
| Base vehicle | |
| Axle type | |
| Dimensions | |
| Shipping length | |
| RRP | |
---
Search our blog
---