If you're new to caravan or motorhome life, you might have heard people talk about awnings. Here we reveal all and how to choose the right awning for your leisure vehicle.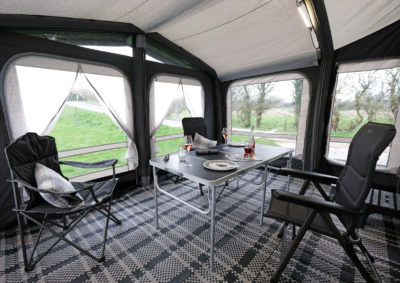 What is an awning?
An awning is essentially a closable tent, intended to be fixed to a stationary vehicle or to stand free from the vehicle. It's a material structure, supported by either poles or air beams, and can vary in size and shape, depending on its purpose and use.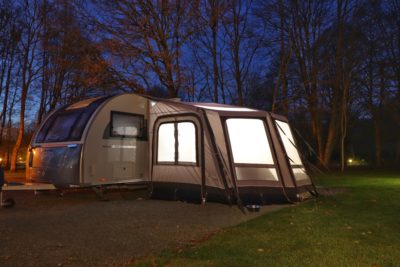 There's a vast amount of choice when it comes to caravan awnings and they are one of the most expensive outlays you'll make, after your caravan or motorhome purchase.
A popular alternative to an awning is a canopy. These are not closable but provide protection from the sun and light rain.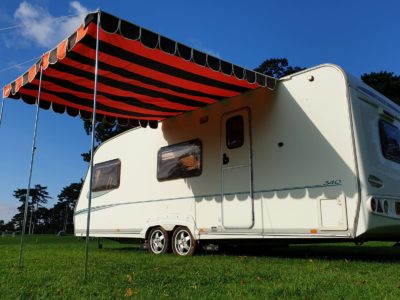 What are the benefits of an awning?
An awning provides many benefits and that's why they're very popular and will be seen on many campsites across the UK and abroad.
Protection from the weather
In good weather an awning provides shade from the sun. Most awnings have doors and windows that you can unzip and open and even remove. This allows fresh air to circulate in the awning.
Awnings can become very warm in the summer months so ventilation is important. By removing the doors and windows the awning becomes more like a canopy. We all know that the UK weather can be unpredictable, so an awning should be waterproof and provide a good space on a rainy day.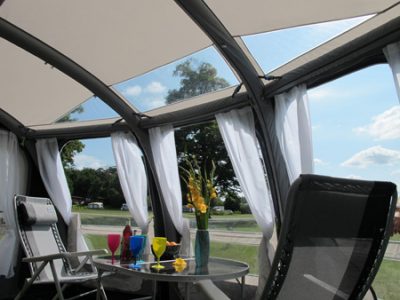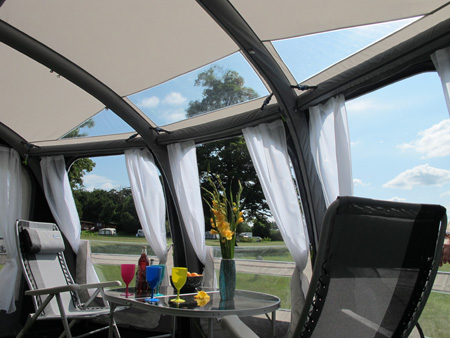 An awning will withstand wind but in high winds you should follow the manufacturers recommendations and it's advisable to take your awning down as it can be damaged, or cause damage to your caravan or motorhome.
Awnings come in a variety of sizes but they all provide extra living space. The smallest porch awning will give you room for coats, shoes and a table and chair.
A larger porch awning and a full awning will provide great space to set up a living space, dining area or any other use you want to put it to – even extra sleeping!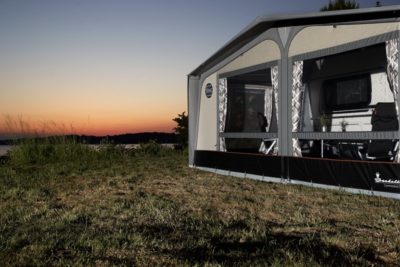 An awning is a good place for children to play or to keep pets safe, as well as being a great social place where you can sit and eat together, relax and enjoy your caravan holiday.
You can add an annexe to some awnings to increases its space when you need it. Some families use an annexe as an extra bedroom. But remember that an awning can get cold on an evening and this might not work for you.
Types of awning
There are many different types of awning and it's easy to become confused about which is best for you.
Poled awnings Image: Isabella Carbon X pole
Poled awnings were the original type of awning and dominated the market until a few years ago. Traditionally all poles were made from steel, but steel is very heavy. Their weight has led to other materials being used in recent times, although steel poles are still a good choice for an awning on a seasonal pitch.
In 1985 Isabella launched fibreglass awning poles and these have since been supplemented by their Carbon X poles. Carbon X use carbon fibres to strengthen the fibreglass.
Fibreglass poles are ideal for touring as they give an excellent compromise between strength and weight.
Aluminium poles are also available and combined with a lightweight awning and reasonable weather, they can be a cost-effective solution. Their downside is their lack of strength compared to other types of material.
Inflatable or air awnings
Inflatable awnings, or air awnings, are becoming increasing popular. With this type of awning conventional poles are dispensed with in favour of inflatable tubes. It's a technology referred to as air tube or, in the case of Vango, AirBeam.
This technology has a number of potential advantages, the main one being it makes the awning quick to put up and take down. By using a pump to inflate the awning they can be erected in minutes. To take down they are simply deflated and packed away.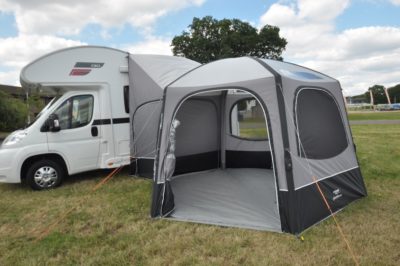 Air awnings are generally lighter than a comparable sized poled awning. Another benefit is they're less likely to damage your leisure vehicle in stormy conditions as they will bend and flex in high wind and withstand bad weather well.
If an air awning is left up for some time it will need an occasional top up to keep its pressure. In very warm temperatures, or strong sunlight, it's advisable to release some pressure from the air tubes.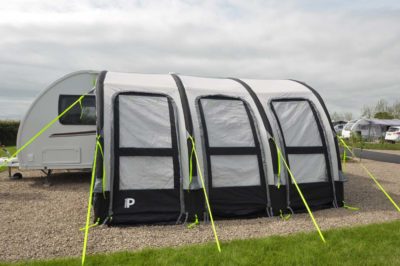 Some air tube systems are fully interconnected, allowing single point inflation but are bulkier in the bag. Kampa use this technology with their awnings. They have an isolator valve so if there's a puncture, or deflation, it can be isolated.
Others, like Vango, have multi point inflation and might also use extra bridging tubes in the roof for structural strength.
The downside of large inflatable awnings is that they can be hard to handle as one large piece. However, if you're looking for a porch awning for short term use, air awnings are hard to beat.
Seasonal inflatable awnings have also seen several developments in the last few years and are worth considering.
Image: Vango awning with removable support tubes
Full awnings attach to a caravan using the full length of the awning rail to create a room that more than doubles the living space inside the caravan.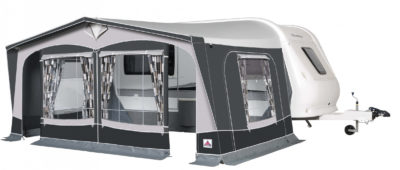 Depths of a full awning are generally in the range 2m to 3.5m and they can weigh 50kg or more, making them harder to transport, lift and carry. A full awning is more suited to a longer holiday or a seasonal pitch user.
Porch awnings attach to the awning rail, or channel, of the caravan or motorhome. The end panels are held to the side by vertical poles, straps or foam filled padding. A porch awning comes in various sizes, from under two metres in width to more than five metres. They're very popular for touring as they're easier to put up, easier to transport and generally weigh less.
A large porch awning will provide a good amount of space and are available in different shapes and models too.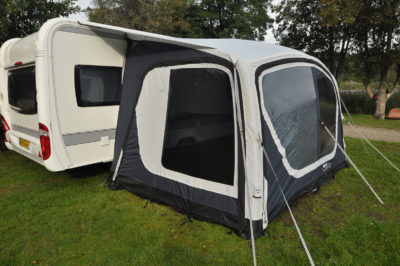 It's important to choose a porch awning that doesn't cut across a window or a storage locker.
Porch awnings can be fitted to motorhomes provided the motorhome has a suitable rail, often known as a 'C' rail, to take the roof beading. A porch awning can be fitted to a canopy of a motorhome and taller awning models are available.
Produced for campervans and motorhomes, drive away awnings remain erected without any support from the vehicle.
There are several methods of attachment to the vehicle, each designed to keep out the weather while providing an easy way of hooking up and disconnecting. The simplest method uses straps that go over the roof of the vehicle and are pegged to the ground on the other side.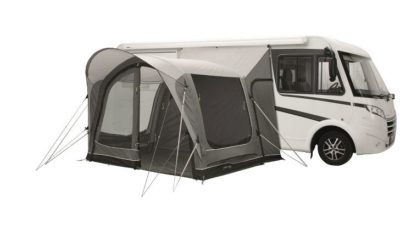 Wind out canopies on motorhomes often have a 'C' rail built in for hanging a front panel. This can be used to attach an awning with a Kador strip.
The benefit of a drive away awning is you can still use your motorhome to explore while your awning stands alone whilst you are out driving. When you return to you pitch simply park up next to your awning again and reattach it.
Roll out canopies and 'safari rooms'
Roll out canopies have become extremely popular for their ease of use. When combined with optional front and side panels it's easy to create an enclosed space, sometimes known as a 'safari room'.
The canopy storage housing might be rigid, like a long thin box, or in the form of a bag with access proved by a zip. Longer versions might need two people to use, particularly when rolling them back into the bag. Rigid canopies are also heavy and best suited to motorhomes, although it may be possible to fit them to some caravans.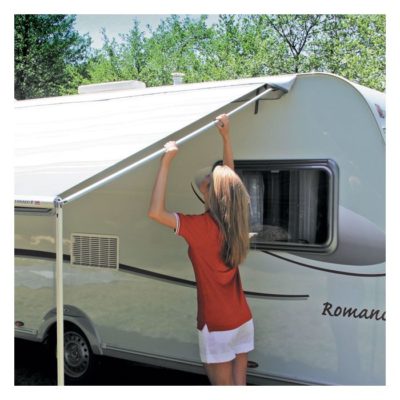 They attach using screws, or alternatively brackets that have been bonded to the roof. The canopy is wound in and out by a detachable winding handle. This makes operation by one person very easy although the overall weight of the canopy might be nearly twice that of a bag type.
With all roll out awnings care should be taken during windy weather, and the awning should be rolled away to prevent damage, and at night time.
What do you need to consider when choosing an awning?
Before you can begin to choose an awning you need to decide how and when you will use it? 
Awning use
If you're touring, then the awning needs to be easy to put up and take down, without being too heavy. For weekends and short breaks a porch awning is ideal as you don't want to be spending hours of your weekend away setting up an awning and taking it down.
If you want to leave an awning up on a seasonal pitch, or to use on longer holidays, then you'll want something more substantial, such as a full awning or large porch awning.
If you plan on using an awning in the colder months then make sure it's suitable for winter use, as some lightweight awnings are not intended for this.
Consider how you will transport your awning as they can take up considerable space and payload.
Consider how much space you'll need inside your awning and it's intended use. If you're going to be dining in the awning you'll need room for a table and chairs, and may be a storage cupboard. On the other hand, if you just want somewhere to keep your wet clothes and muddy boots, a small awning will suffice. It will also keep the weather away from your door and give you an extra degree of privacy when the door is open.
Make sure there are enough people to help with putting up the awning. A large awning with poles really needs at least two people. An inflatable awning can be managed more easily by a single person.
Awning cost
Decide on a budget for your awning and try to stick to it. There are some very good entry level awnings that will cost just a few hundred pounds, both poled and air, compared to the most expensive awnings which can cost up to £2,000.
You can save money by buying an awning at a show, buying a previous year's model, or negotiating it as part of a caravan or motorhome purchase.
There are also some very good used awnings for sale.
Awning weight and size
Whilst a large awning may look fantastic once it's erected, remember that it will be heavy to carry and lift, and a heavy awning will eat in to the payload of your car, caravan or motorhome, depending on how you transport it.
Make sure you'll be able to handle your awning and don't forget about putting it away too and where you're going to store it.
A large awning can be harder to pull through the awning channel, due to its weight, and might need two people and some degree of fitness.
If your awning is wet when you pack it away it's advisable to dry it out when you get home to keep it in a good condition. Make sure you have room to do this with a large awning.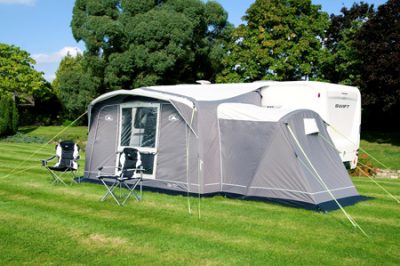 When buying an awning consider how deep it is. This is the distance it extends away from your caravan or motorhome. With a depth of three metres or more you night find pitches are not large enough to accommodate you. If you have a large tow car and caravan some pitches will not be wide enough for your awning too.
Awning classifications
Awnings are classified according to their intended use. The British Standard recognises the following types:
These are suitable for all year round use and are able to cope with a specified roof loading, such as heavy snow.
Residential awnings (Type R) 
Awnings suitable for continual use over extended periods and capable of handling a light snow load. These are suitable for seasonal pitching.
Touring awnings are suitable for repeated pitching at any time of the year, but not in winter snow. They will withstand a variety of weather depending on their construction, fabric and material weight.
Lightweight awning (Type L)
Awnings suitable for repeated pitching with a total weight of less than 2.75 kg/m2 of the base area.
Awning materials
Generally speaking, the higher the quality of the awning, the heavier it's likely to be and the more space it will take up when packed for transport.
Fabrics
Modern awnings are mainly derived from man-made products, compared to older awnings which were manufactured from canvas made from cotton or linen. These were often blended with polyester for lightness and durability without compromising strength.
Polyester cloth is generally much lighter than acrylic and has a degree of breathability. However, it's not so hardwearing so might be best for occasional use awnings.
Synthetic polyester is widely used because of its strength and water resistance. The performance of any material depends on what treatment it has been given. Polyester may be coated with vinyl laminate, PVC or acrylic. These increase its strength, durability and weather resistance.
Acrylic fibres are commonly found in awnings. These can be spun and dyed like wool to give a product that is light and strong with good insulating properties.
Lightweight, polyester fabrics are often found in cheaper awnings, but can lack durability, so are good for occasional weekend use.
For more frequent use it will pay to invest in something a little heavier, such as acrylic coated polyester as it combines durability with some degree of breathability.
Material weights
Weight is often measured on the Denier scale. The higher the number the greater the thickness of individual threads used to create the fabric.
Fabrics with a high denier count tend to be thicker, sturdier and more durable.
A typical full-sized caravan awning might have a Denier rating of 300 (300D). A small porch awning made from polyester night be as low as 75D, whereas a heavy-duty seasonal pitch awning night be in the range 400-500D.
Measuring a caravan for a full awning
The universal and most reliable method for measuring a caravan awning is to use the caravan's A-Measurement. All full-sized awnings are categorised by the caravan A-Measurement size.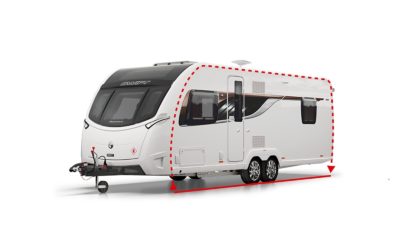 How to measure a caravan A-measurement
A caravan A-measurement is the distance in centimetres from ground level, going up and then all the way around a caravan awning rail and back down to the ground again at the other side.
Your caravan's awning rail measurement should be in your manual, on the page listing the caravan dimensions. The rail measurement is shorter than the A-measurement.
You can easily measure the A-measurement by using a tent peg, tape measure and a ball of string.
First, put the tent peg into the ground directly below the awning rail entrance at one end of the caravan.
Then, tie the end of the string to it. (If you don't have a tent peg or if the ground is hard, just secure the string with a small heavy implement.)
Next, feed the string all the way around the awning rail, all the way along to the ground at the other end of the caravan.
If the awning rail has a prominent curve at the bottom sections, let the string drop down to the ground as in the diagram below.
Cut the string where it meets the ground and measure it in centimetres.
This will give you your caravan's A-Measurement, which is your caravan full awning size.
This measurement will fall into a range of standard awning sizes – i.e. if your A-measurement is 970cm, you would select your awning from the 950-975cm range. Sometimes, however, your A-measurement might be at the point between awning size ranges, in which case you should opt for the larger size. A larger size will allow for a bit of slack and also give you some room for manoeuvre, which could be useful on an uneven pitch.
Measuring a caravan for a porch awning
Measuring your caravan for a porch awning is very different to measuring for a full awning, as a porch awning doesn't wrap all the way around one side of your caravan. This type of awning is usually secured to the ground with pegs or guide ropes.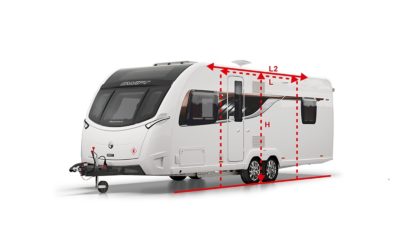 The size you need for a porch awning relies on two measurements:
1) The height measurement (H), which is taken from ground level vertically up to the awning rail (H)
2) The length measurement (L), which is the straight section across the top of the awning rail.
There are other things to consider when measuring for a porch awning, such as making sure the caravan door is within the section measured so that it opens comfortably into the awning.
Also, make sure that any side windows, toilet cassette hatch and refrigerator vents are not obscured.
In the diagram example if a porch awning measuring the full length of L2 was fitted, the side wall of the awning would prevent the window from opening. To make sure the window opened, you would need to measure the length from the point where the window begins (L).
Measuring a motorhome for an awning
Most awnings for a motorhome fit best when using a Fiamma or Thule awning channel or driveaway kit. There are options available such as magnetic driveaway kits or tie down straps which are thrown over the vehicle and pegged down if you do not have an awning channel available.
To measuring your motorhome to fit an awning you'll need two dimensions as well as the consideration of fitment.
1 ) The height measurement (H) which is taken from the ground level vertically up to the fitment height of the awning channel. This is crucial to choosing the correct awning.
2) The length measurement (L) us normally used when sizing a fixed awning.
More drive away awnings will take a similar length of rail but use a driveaway kit in between, therefore needing approximately three meters of rail.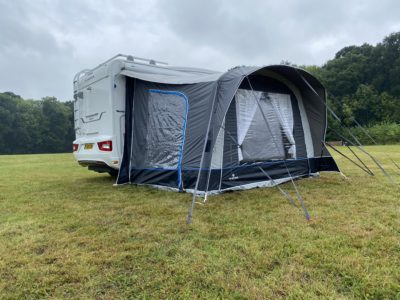 Awning top tips
Before pulling your awning through the awning channel, lubricate the channel with a silicone spray. This will make it much easier and you only need to do it a few times a year
Regularly check your awning channel for any debris or blockage
You can use your caravan step to stand on to pull the awning through the channel
When putting up your awning up make sure you don't cover any important hatches like the toilet cassette or locker storage. You won't be able to open these if the're covered by your awning sides
If you have a poled awning, mark the poles with coloured tape to make it easier to find the poles you need in future
If you pack away your awning wet then try to dry it out at home to prevent damp developing
Clean and re-proof your awning when needed, See our awning cleaning tips here.
When putting away your awning, be careful not to scratch any of the windows on gravel or stones.
It's important to remove all excess air from the air tubes before folding the awning up to put it away. Otherwise you may struggle to get it back in the bag.
Main awning manufacturers
There are several well established awning manufacturers in the UK market which offer awnings for all budgets and uses.
Isabella is well known for its luxury offerings and full awnings.
Kampa, Outwell and Vango, are popular manufacturers of inflatable awnings in the mid-price range. They offer awnings for caravans, motorhomes and campervans.
For a full awning, Dorema and Bradcot offer a well-priced selection. Their awnings are tried and tested across Europe but are often overlooked in the UK. They have recently moved to air awnings too.
For the budget savvy there are good value awnings available from the likes of SunnCamp, Camptech, and Outdoor Revolution.
Many caravan dealers will have an awning display and it's a good place to visit to compare makes, styles and prices. Plus, look out for outdoor and indoor caravan and motorhome shows where you'll find areas dedicated to awnings.
Insuring your awning
Given the value of a caravan or motorhome awning it's vital your insurance covers it against damage or theft.  Indeed one of the most popular insurance claims we deal with is for storm damaged awnings and you may find some policies don't cover this. Both Caravan Guard's caravan and motorhome insurance policies provide storm damage cover. Bear in mind though, although Caravan Guard's motorhome insurance covers up to £5,000 of equipment or personal possessions as standard, you'll need to add the value of your awning to your caravan equipment sum insured to make sure it's fully covered.
Over to you…
If you have any awning top tips to share then please in the comments.
Search our blog
---