In this video, we speak to three Caravan Guard customers for their top tips on towing a caravan.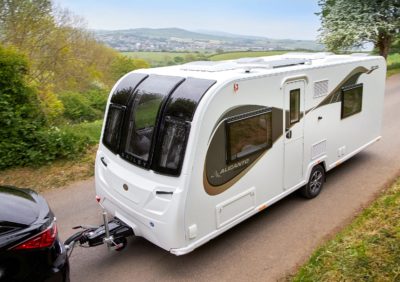 From driving licences, tyres and towing abroad, we bring you some great things to consider when towing a caravan, whether you're new to caravanning or have been doing it for years.
Let's meet the caravan towing tipsters…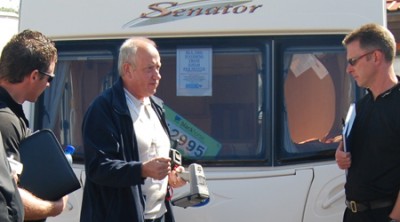 Tim Booth is the Leisure Vehicles' Officer for the National Vehicle Crime Intelligence Service and not only advises the industry on all things towing, but is also involved in the recovery of stolen caravans and carrying out roadside checks. He's also a keen caravanner and has been towing a caravan for an incredible 40 years.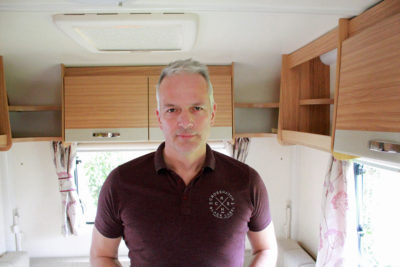 Lee Davey is the brand ambassador for Bailey of Bristol and has been towing a caravan with his family across Europe and in the UK for 12 years. With Bailey, he's also towed a caravan to the Arctic Circle, to the end of the world and from Bristol to Istanbul in a 5,000-mile intercontinental journey through 21 countries in 21 days.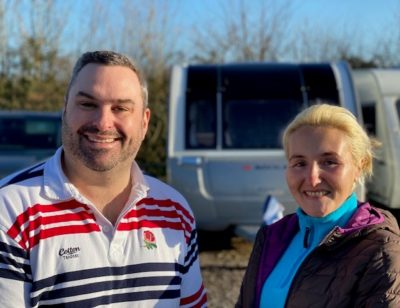 Jules and Karina Ingham from Here We Tow have towed an eight-foot-wide Adria caravan and in the two years they were towing they covered 15,000 miles in the UK and in Europe.
Ten top caravan towing tips
1. Check your driving licence
Make sure you've got the right entitlement on your driving licence for the car and caravan outfit that you're towing.
Tim said a lot of people with a category B driving licence think they can't tow anything.
"But you can, up to a car and caravan combination of 3,500kg," said Tim.
In 2021, it was agreed that car drivers could tow a heavier caravan outfit without having to take the B+E test. Drivers who passed their car test after January 1st, 1997 can tow a laden caravan weighing up to 3,500kg.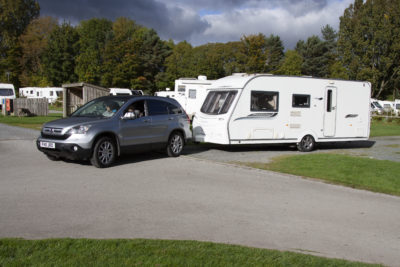 Drivers who have held a licence since before 1997, will already have B+E on their licence and can legally tow over 3,500 kg – unless they've had their licence revoked.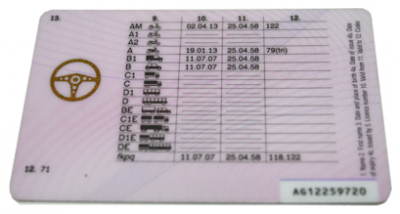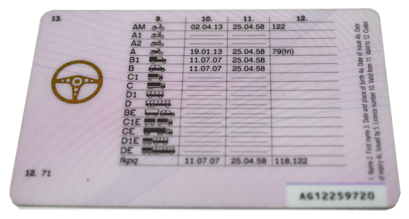 "Check the back of your driving licence and it will tell you the driving groups you're entitled to and more importantly that you're insured," added Tim.
2. Make sure you have the correct tow car
Make sure you have the correct tow car for the caravan you are towing. Check the Gross Vehicle Mass of your vehicle, its kerb weight, and the legal limit it can tow. Make sure the weight (MTPLM) of your loaded caravan is no more than 85 per cent of your tow car's kerbweight.
"Also make sure the tow ball of your car can take the noseweight of your caravan," added Karina.
You can make sure your tow car and caravan towing combination is safe and legal by inputting the details into the TowCheck website.
3. Load your caravan correctly
Lee Davey's top tip is to load your caravan correctly before you hitch up and tow so you are towing safely and your outfit is stable.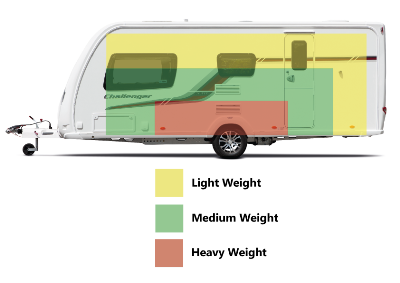 4. Fill up your tow car with fuel before hitching up
Filling up your tow car with fuel without the caravan on the back is a great tip from Karina.
"The last thing you want to do is set off towing and find out you've not got enough fuel to get to your destination," said Karina. "Getting into a petrol station with a caravan on the back is not always that easy. So fill up before you hitch up!"
5. Attach the breakaway cable
Before hitching up your caravan you need to make sure the brake will come on if you make a mistake, so Tim advises to always attach the caravan breakaway cable first.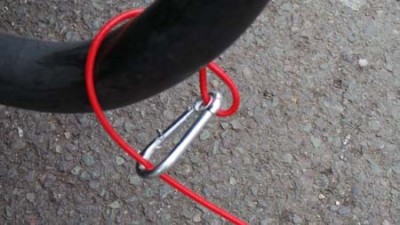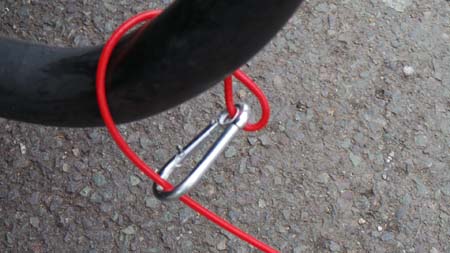 "Then go through the process of putting the caravan hitch on to the tow ball and lowering it down," added Tim. "If you've got a hitch that shows it's connected, a button will pop up and go green."
Tim then suggests winding the jockey wheel up and if properly connected it will pull up the back of the car. If it doesn't then the caravan is not connected properly.
6. Secure everything before towing
As well as making sure all skylights, windows, doors, lockers etc are firmly closed, Lee also reminded caravanners to make sure the travel lock on the fridge is securely fastened.
It might sound simple or silly, but Lee and his family found out the hard way after forgetting to do this after embarking on a three-week European holiday via the Eurotunnel.
"We found two litres of milk had fallen out of the fridge and was soaked up in the carpet – it's not funny!" said Lee. "So, always make sure your fridge is locked before towing."
7. Check your tyres
Jules reminded us of our PACT for caravan tyre and wheel safety, and that before towing you should always check the pressure, age, and condition of your caravan tyres, as well as the torque settings of the wheels.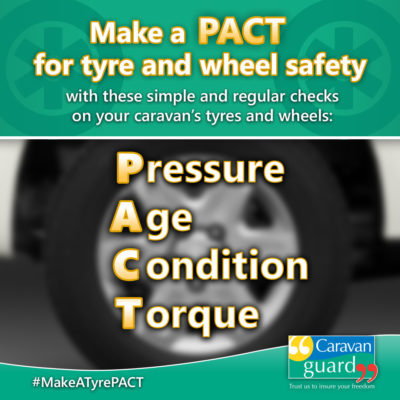 8. Always fit towing mirrors
To make sure you're towing your caravan safely and legally you need to be able to see behind you.
"The law requires you to see behind 20 metres back and four metres out," advised Tim.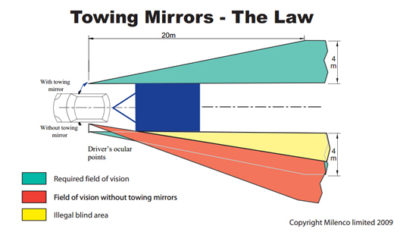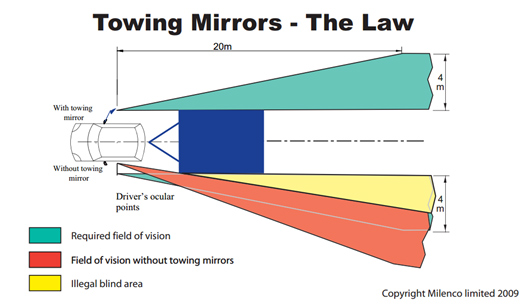 He also alerted caravanners who might have swapped to an eight-foot wide caravan that their old towing mirrors might no longer be legal and allow you to see around your caravan enough.  However, some manufacturers sell an extension arm so you have a good view aroud your caravan.
"It's really important that you can see where your caravan is, how it's running down the road and what other people are doing behind you so you can respond," added Tim.
9. Go slow
Karina's last towing tip is to go slow and steady and swing wide!
10. Follow the traffic when towing abroad
If you're heading to the continent and you're nervous about towing on the opposite side of the road, Lee advises pulling over after coming off the ferry or Eurotunnel and let the traffic go past.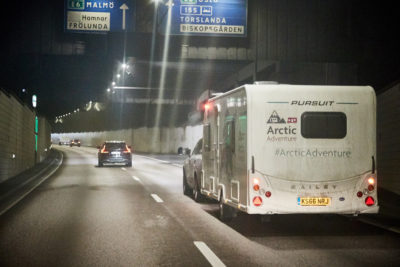 "Then follow this traffic, which then meanders through all the roundabouts and dual carriageways," said Lee. "You'll have quite a lot of it to follow and by the time you've bypassed all of that traffic you'll be used to being on the other side of the road. So, if you're thinking what's it like to tow on the other side of the road, just follow other people for as long as you can."
Over to you…
Got any top towing tips to share with fellow caravanners? Feel free to add them in the comments box below.
And don't forget to check you have specialist caravan insurance cover to pride your pride and joy in case the worst should happen, whether you're towing, on holiday or when your caravan is in storage. Simply click the "get a quote" button at the top of the page.
Search our blog
---