New to caravanning and thinking of buying a new caravan to fulfill your touring dreams? Start right here.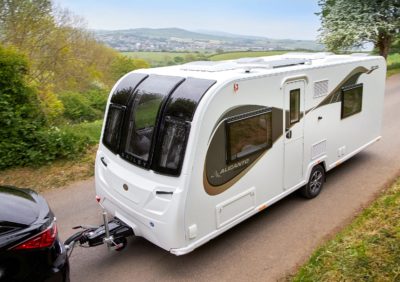 Think of it as an investment rather than just another purchase. It's rather like buying a house. First impressions do indeed count for a lot. If your instincts tell you that a certain type of caravan looks and – more importantly – feels right, then it probably is going to be right.
Here are our 10 top tips for buying a new caravan…
1. Do your research before buying a new caravan
Great, you want to buy a brand new caravan. The fun really does start here. But, the groundwork is laid by thorough research – the more you do, the more rewarding you'll find it in the longer term.
It's all too easy to get carried away at the thought of a shiny caravan ready to be hitched up before whisking you away to new adventures. There's just a bit of work to do before that.
Talk to family, friends, get to know dealers, visit shows, speak with fellow caravan owners – all will be delighted to share their views and offer advice on different models and brands.
Amongst your initial research should be considerations regarding weights and dimensions.
Consider also where you're going to store your caravan.
See also… our article on choosing the right caravan layout as this will be key in choosing the right model. Also, if you think a pre-owned caravan is a better way to start off see our guide to buying a second hand caravan.
Caravanning really is for everyone. See our article on caravanning with a disability.
 2. Checklists
As part of your research, it's an ideal time to start listing what you want from your caravan. That's everything from particular activities you want to enjoy as part of your caravanning lifestyle, to where you intend to travel and at what times of the year.
This will also give you the chance to prioritise what's most important for you.
Start with berths – seating and bedding (the current trend is very much for permanent beds, but this does limit your daytime living space). Then it's on to kitchen, washroom and overall storage.
A list of key items of kit – including "must haves" and "would like to haves" is also a great help.
See also… our 10 top tips for a first time caravanner article.
3. Get to know the lingo
MTPLM, MiRO, noseweight, towball, hook-up… these are just some of the terms you're going to have to get used to when buying a new caravan and when touring. Luckily, in reality it's all pretty straightforward.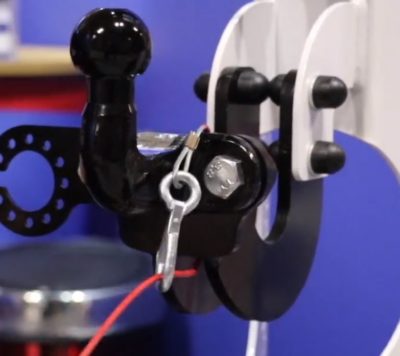 See also… our Caravan Glossary is a great introduction to some of the industry jargon and get to know the lingo.
 4. Get a good dealer
Find a good caravan dealer and you're well on your way to getting a good deal. Someone local to you is ideal. Look out for overall credentials – how long in business, how long they've had specific manufacturer franchises, approved workshop and servicing…right down to any other links they might have with your local community.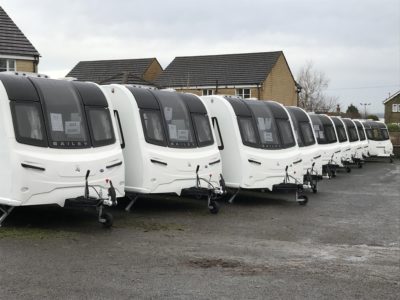 See also… Leading dealers tend to be (although aren't always necessarily) members of the UK trade body for caravans, the NCC (National Caravan Council). Find out more here.
5. Can your car tow it?
Although many new caravanners also use it as an excuse to buy a (usually bigger and heavier) car, there's lots to be said for sticking with your current vehicle for towing – it's what you'll be most comfortable with, for starters.
Also, whether you're completely new to towing or already feel relaxed at the prospect of lugging a caravan around, going on a caravan manoeuvring course is a great idea. Again, find out more via your local dealer.
Don't forget, you also need to check your driving licence to see if you have the right qualifications for towing. A good specialist caravan retailer will be able to help with all of the above.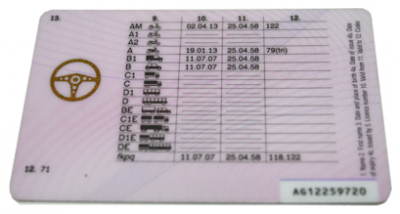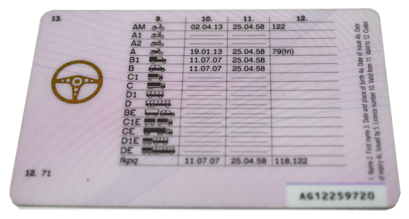 See also… our article on matching car and caravan.
6. Go, view
Once you have a good idea of the type and layout of caravan you want to buy, the time has come to get out there and view some leisure vehicles "in the flesh". That means visiting specialist caravan dealers or shows.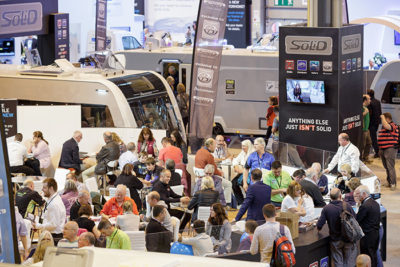 Whilst online buying is very much the retail experience of the moment, there really is no substitute for getting out and seeing things for yourself when it comes to an important purchase such as a caravan.
Sales staff will, of course, be on hand to offer plenty of advice. But, just as important is the opportunity to have time alone in a caravan for yourselves.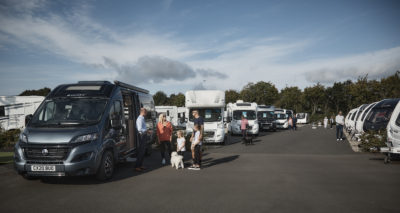 Décor etc is always going to be up to you, plus you'll want to check out any musty smells or general wear and tear that might not have been photographed!
That also involves getting your finances in order. Are you buying with cash, wanting finance or taking out a loan? Whichever way you decide to go, stick to your budget.
See also… For more about the UK's two main caravan exhibitions, see www.thencc.org.uk. Look out for regional events near you, too.
7. Consider aftersales when buying a new caravan
Following on from the above, the right dealer for you will be able to offer lots in terms of aftersales service. Everything from service centres staffed by qualified caravan technicians, to accessories shops selling everything you need for happy caravanning experiences.
Look out for any customer satisfaction awards from the likes of Practical Caravan magazine. Online reviews are also good indicators.
See also… Find out more about the Approved Workshop Scheme here. Award-winning manufacturers and dealers, as voted for by caravan owners and 2020 winners can be found here.
8. Focus on the details
Again, this is where a good retailer can be a real help. Offering a choice of caravans and layouts that you can go and view is the perfect way to compare, contrast and really get down to the nitty-gritty of what's going to be the best for you. It's also your chance to grill sales staff and check out if they really do know their stuff!
There's plenty to consider when it comes to details. Everything from standing room, to bed dimensions (rely on your tape measure rather than sales brochures), to storage space (locker sizes and accessibility)… even aspects such as legroom around the toilet, room for showering, location and/or ease of access to key fittings like the cooker, microwave oven or fridge, and so much more.
Again, it's going to come down to your priorities. Meanwhile, aspects such as overall styling and décor are, of course, all down to you.
See also… Our regular caravan reviews are found here.
9. Don't just negotiate on price
Everyone loves a bit of a haggle, but there's a bit more craft to sales negotiation than that.
You're usually better off bargaining for any extras to be fitted – awnings, solar panels, bike racks and more, are popular options – rather than concentrating solely on price. There might even be offers on future servicing work.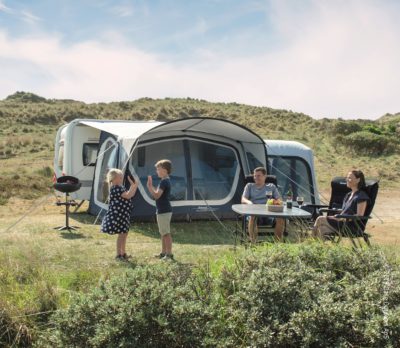 Also, as a (possibly total) caravanning newbie, your dealer should be looking to give you a complete package – including accessories such as fresh and waste water tanks, hosepipes, steps, levelling chocks, mains lead, leisure battery, toilet chemicals, security fittings and even gas cylinders. Anything you need to get started in your brand new caravan.
Don't forget you'll need towing mirrors and a number plate for your new caravan, too!
See also… There's an introduction to 15 essential caravanning accessories here.
10. Enjoy yourselves
The process of choosing and buying a new caravan should be almost as much fun as using one. So, do relax and make the most of your experience. Don't feel any obligation to rush any decisions you might later come to regret. Remember, caravanning is a lovely pastime that will bring you many memories over the years (and even when things don't quite go to plan, you'll have great stories to tell at a later date!).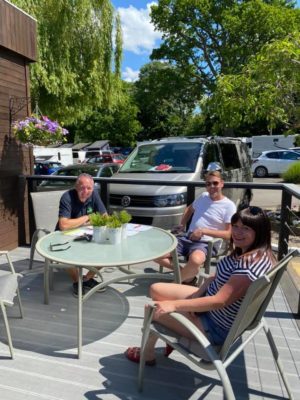 Incidentally, it's ideal to go away for a night or two (keep it local) as soon as you get your brand new caravan – just to make sure you have all the right kit for future holidays and to make sure you're happy with the way everything works.
Also, joining a caravanning club, owners' group or Facebook forum, will pay dividends in terms of advice, places to stay and more.
Finally, don't forget to insure your caravan with a specialist. Well, we would say that, wouldn't we?!
See also… For more great ideas on where to go caravanning, see www.freedomtogo.co.uk.
Over to you…
Got any advice to pass on to newcomers to caravanning and/or current owners about buying a new caravan? Please feel free to add a comment below.
*Some images in this article were supplied by Broad Lane Leisure and Salop Leisure.
Search our blog
---