When it comes to buying a motorhome, layout is the single most crucial factor. And only you can know what's best for you.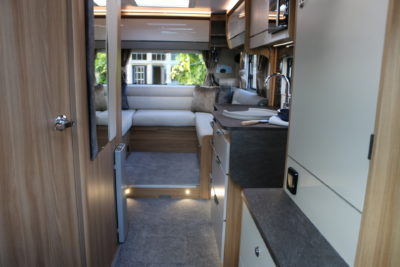 Well, here's a start, with the Caravan Guard guide to 10 of the current most popular floorplans for motorhomes of all types, along with specific make and model examples to look out for.
Just note the following are very general descriptions and you'll find lots of variations on each of the themes below, as well as plenty of models that are a bit more exclusive and don't fit any of the following bills. In other words, there's something out there that will suit your needs perfectly. Happy researching!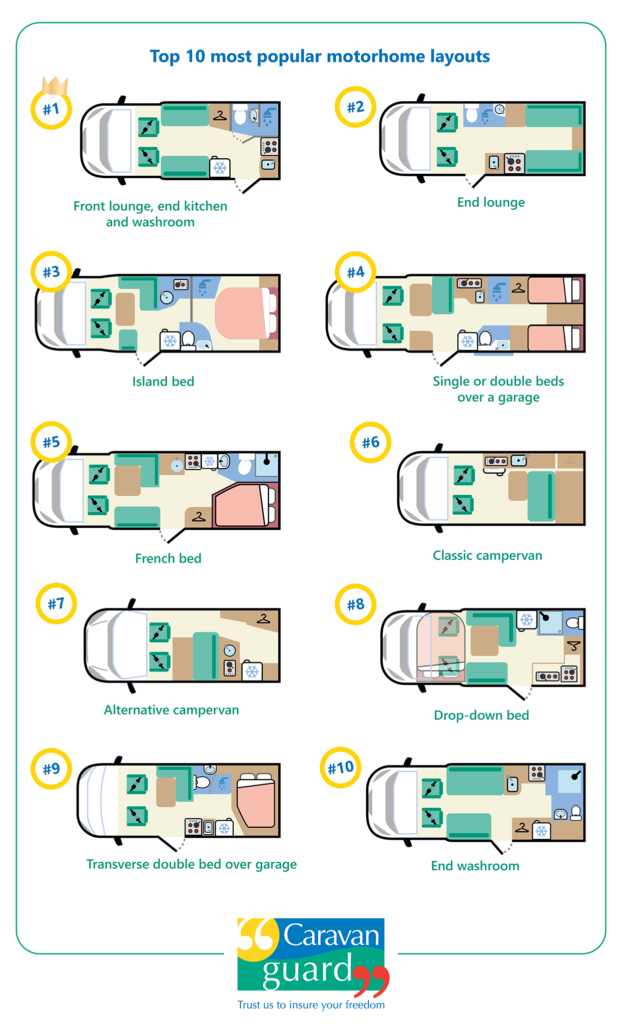 The models listed in "Typical Examples" have all been reviewed by us from the 2020 season on – simply click on them to go to the individual reports. Also, unless otherwise stated, these examples are coachbuilt motorhomes.
Know your motorhome jargon: Click the link to see our comprehensive motorhome glossary.
Front lounge, end kitchen and washroom
A long-term popular floorplan for a smaller coachbuilt motorhome (typically, anything up to 6m long), although you'll see it in longer vehicles, too. The advantage of the latter – apart from more living space generally – is the option to have either two single beds or a double from the settees – whereas in a shorter model it's more likely the seating will only make into a transverse double.
Combined with swivelling cab seats, it means you get a particularly generous lounge, bearing in mind overall vehicle length. Space at the back means the washroom typically occupies the offside corner, with the kitchen taking up the rest of the back wall, quite often also extending around the side beyond the habitation door.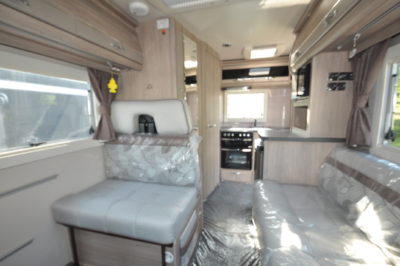 Converters have long been adept at squeezing in a full cooker, plus a sink with drainer (usually loose, sometimes permanent) as well as optimising storage both above and below.
Lounges are often inward-facing settees but you can also get variants that provide dinette seating that's also suitable for travel.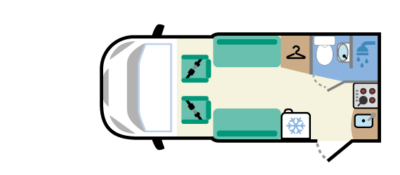 Typical examples Auto-Sleeper Nuevo, Auto-Trail F60, Pilote P626D Evidence
Key points
Always cited as an ideal motorhome layout for a couple
Storage is often a bit of a challenge, but hopefully, the under-settee areas will be free of clutter
Smaller, lighter vehicles usually mean better payload…and economy
End lounge
End or rear lounge motorhome layouts are particular favourites with anyone swapping over to motorhomes from a touring caravan… as well as anyone else who likes a roomy daytime seating area with windows to three sides (and sometimes the added bonus of a large roof light overhead). The seating itself can be inward-facing settees or wrapped around all three sides.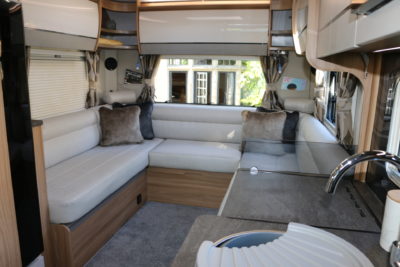 It's a formula that's long been a particular favourite with UK users (end lounge models tend not to feature much in Europe).
Ideally more at home in a coachbuilt body, you can also get van conversions with end lounges.
Also worth considering, you can get models with rear lounges as well as extra seating further forward (and usually designed for travel) in a second lounge/on-side dining area.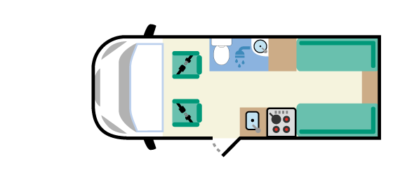 Typical examples Auto-Sleeper Warwick Duo (van conversion), Auto-Sleeper Broadway EL, Auto-Trail Adventure 65 (van conversion with elevating roof), Auto-Trail Expedition 67 (van conversion), Auto-Trail Tribute F72, Bailey Autograph 69-2, Benivan 120 (van conversion), Compass Navigator 120, Elddis Accordo 120, Elddis Autoquest CV80 (van conversion with elevating roof), Frankia i8400 Plus Platin (A-class), Rapido 8094DF (A-class), Sun Living V65SL (van conversion), Swift Select 174 (van conversion)
Key points
Optimises seating space, including legroom
U-shaped seating usually also translates into larger than average double beds
For coachbuilt versions, you might want corner steadies (sometimes only available as an after-market fitting) to lessen the effect of any "bouncing" when you're on-site
There's generally good upper-level locker storage with an end lounge motorhome layout
Island bed
An increasingly popular sleeping format, thanks to the easy access to each side that an island bed allows. Set longitudinally or transversely, few beds can beat the comfort of an island – look at mattress quality as well as the extra support and ventilation you get from slats (ideally, sprung) underneath.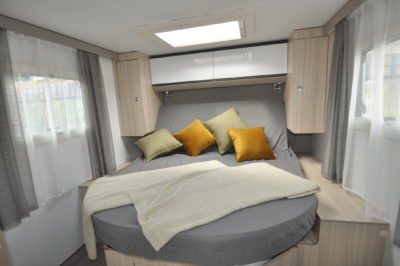 With a longitudinal island bed set against the back wall, en-suite facilities are usually split between a shower on one side and a toilet room the other, at the foot of the bed. Transverse islands also allow for greater flexibility in the location of the washroom.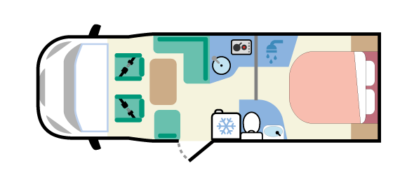 Typical examples Adria Compact Supreme SC, Elddis Encore 250, McLouis Fusion 367, Roller Team T-Line 743, Sunlight XV Edition T69L
Key points
Setting an island bed transversely usually allows for a shorter overall vehicle compared to having it lengthways
Check how easy it is to access underbed storage space – either from outside or in. If the latter, make sure any struts are strong enough to hold the bed frame in the up position
Height of the bed will determine how easy it is to access
As with any permanent bed, you might want to assess how easy it is to sit upright here
Single beds or double over a garage
Very much a favoured floorplan for a coachbuilt motorhome at the moment, key factors here are the choice of two singles, which can easily be made into a double, permanently set over a garage storage area accessed from the outside of the vehicle (sometimes also the inside).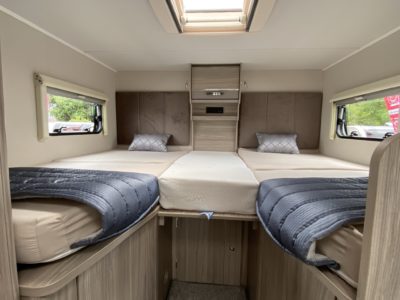 There are also plenty of van conversion models with permanent single beds and a generous storage area underneath. They tend to be a bit shorter than the coachbuilt equivalents.
Whichever version you decide to go for, do note there's an extensive choice, with nearly every major manufacturer having such models on its books (in turn, this reflects the popularity of such a floorplan).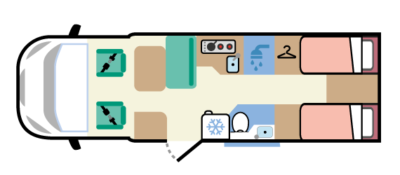 Typical examples Adria Matrix Supreme 670SL, Adria Sonic Axess 600 SL, Elddis Autoquest 194, Niesmann+Bischoff iSmove 7.3F (A-class), Volkswagen Grand California 680 (van conversion)
Key points
Ideal if you want a motorhome layout with the flexibility of single beds or a double, plus a large storage area
Make sure you're happy with access to the beds – in singles or double mode
Permanent beds aligned this way can mean compromises on other key living zones – lounge, washroom or kitchen
Always check bed sizes for yourselves
French bed
Very popular when first introduced to the UK, when designs like this represented the first motorhomes to come with permanent double beds. However, they're somewhat overshadowed now by models with island beds. Nevertheless, plenty of folk still like the usual French bed arrangement where a washroom sits alongside a double bed.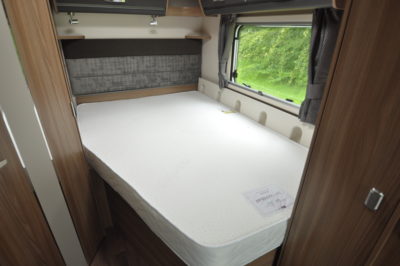 The term French bed, meanwhile, refers to the cutaway shape of the mattress. With such a design, it usually helps if one person in a partnership is shorter than the other – and the one who sleeps on the outside is the least likely to need to get up in the night!
An alternative floorplan has a full-width washroom directly behind the bed.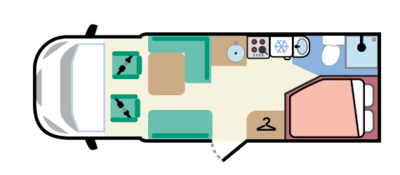 Typical examples Bailey Autograph 74-4, Compass Avantgarde 155, Elddis Autoquest CV60 (van conversion), Swift Kon-tiki Sport 560
Key points
You need to be satisfied the bed isn't a compromise too far
Ditto washroom space
The opposite to this, you're generally guaranteed good lounge space
Ideally, there should be good under bed storage, with access from outside as well as inside
Classic campervan
This really is a classic floorplan – you could easily argue it goes back over some seven decades – and it's more popular now than ever. Typically, it will be based on Volkswagen's Transporter (although do look out for alternatives using Ford's Transit Custom and the Renault's Trafic or Vauxhall's Vivaro).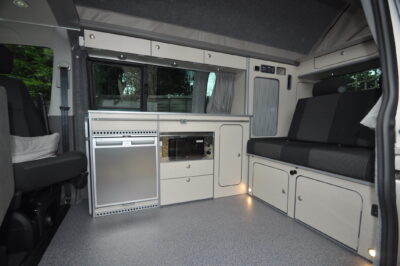 What you get is a base vehicle that's more akin to a large car and a conversion that's designed with some key camping kit (beds, storage, table, basic cooker and sink etc), but also with daily driving duties in mind.
Volkswagen's California rules the roost in this particular part of the market, but there are literally hundreds of other, independent converters out there (note: the California conversion stays "left-handed", i.e. the sliding door is on the UK offside)
Typically, the furniture is along one side and the rear bench seat converts into a double bed. There might also be sleeping accommodation in the elevating roof section. This is by far the most popular campervan floorplan, but others do exist.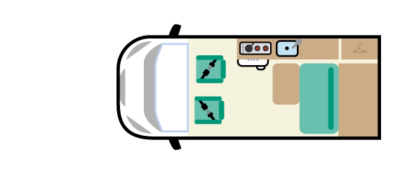 Typical examples Bilbo's Celex, Ecowagon Expo Plus, Heart of England Motorhomes Velare (based on Hillside Birchover), Volkswagen California (not Beach)
Key points
It's all about daily driveability with this type of motorhome. Check you enjoy being behind the wheel of one of these (spoiler alert: you will) and that is has adequate seat belt provision for people-carrying mode
Base vehicles, especially Volkswagen's Transporter, do vary with their specification and weight ratings.
Check out storage – it does vary from camper to camper
Make sure that the bed is comfortable and easy to make. However, prioritise rear seat safety over this
Alternative campervan
A bit of a catch-all category, this, but it's a good description for the niche of campervans that offer something different to the otherwise ubiquitous side furniture/rear seat category above.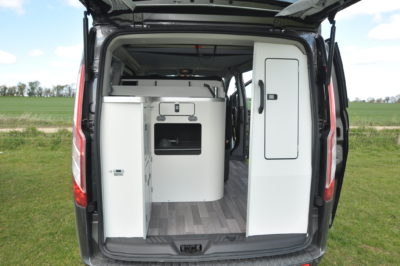 You'll find examples with, for example, four individual travel seats, with kitchen facilities beyond. Or models like Ford's Nugget when the kitchen is towards the back, aft of a lounge that also provides safe travel for up to five folk.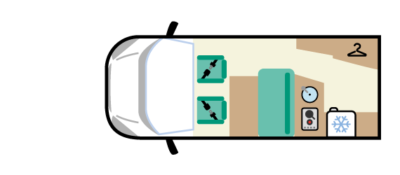 Typical examples Bilbo's Lezan, Bilbo's Nexa, Ford Nugget, Volkswagen Caddy California
Key points
As ever, it's what works for you
Alternative campervan layouts often allow for the provision of a plumbed-in toilet with its own holding tank
Converters also often offer to fit a high-top rather than an elevating roof
A point to consider with less popular floorplans – resale values may not be as high as more popular models
Drop-down bed
Originally the defining feature of an A-class motorhome, where such a bed sits directly over the cab area, increasingly in recent years we have seen more and more (mainly) low-profile coachbuilt models with drop-down beds set over their lounges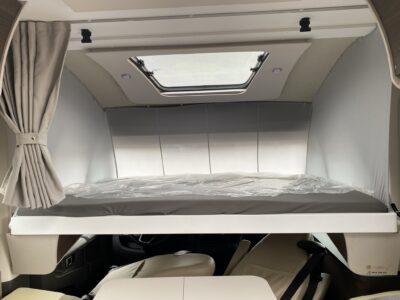 The advantage is clear. You get all the comfort advantages of a permanent double bed whilst also retaining lounge space, with a vehicle that has to go to excess in length. It also means you can have easy access to the kitchen and washroom.
Variations on the motorhome layout shown below do exist, but the gist is that bed, sometimes called a hideaway, is a massive space-saver.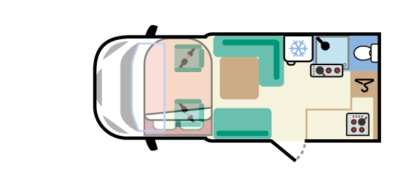 Typical examples Adria Matrix Axess 520 ST, Benimar Tessoro 482, Chausson X550 Exclusive Line, Vantage Sky (van conversion)
Key points
Drop-down beds come down electrically or manually. Check for levels of height adjustment – some offer a full range coming down to very low settings for easy access, others may only have set heights
Be careful such a bed arrangement doesn't foul access via the main habitation door
Early electric versions tended to suffer from fuses blowing. A manual override is a handy feature to have
Night-time ventilation can be an issue. Ideally, there should be an opening sunroof in the over-cab area and/or a roof light directly over the bed itself
Transverse double bed over garage
Again, a motorhome layout that was very popular when first introduced, but has struggled a bit over the longer-term – getting up into bed can be a bit of a challenge for some.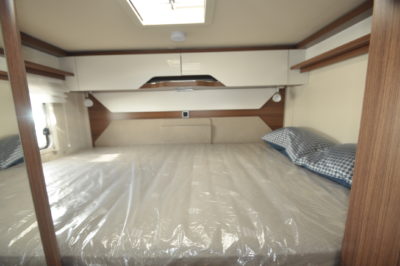 Also, quite often beds like this don't offer the space to sit upright – although do look for models where the bed is set lower (and hence the garage is smaller) or – less common – where the bed section can be raised and lowered.
Yet, a floorplan like this does have the two advantages of a permanent double bed as well as a large garage area for storage, in a vehicle that doesn't necessarily have to be too large.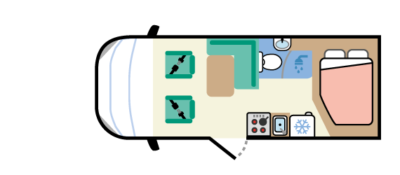 Typical example Hymer B-MC i550 WhiteLine (A-class)
Key points
A great use of space if you want a permanent double bed and a large garage area but in a relatively short vehicle
Setting the bed transversely allows for more living space elsewhere
Ideally, the bed should have some sort of under-mattress ventilation
As with any motorhome with garage storage, check the load capacity
End washroom
The term where the back end of the living quarters is taken up by a washroom offering full toilet, shower and handwashing facilities – but usually also enough for plenty of dressing space. Some models even manage to squeeze in the wardrobe here.
Typically, you can expect a separate shower cubicle, sometimes much larger than the norm. Also key is the amount of floor space you get in the washroom, which allows for dressing etc. You might want to look out for features that allow for the drying of wet clothing etc, too.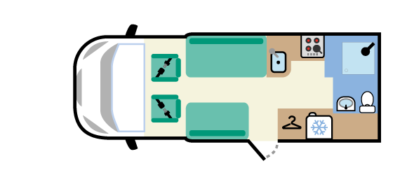 Typical examples Auto-Sleeper Broadway EB, Auto-Sleeper Kemerton XL (van conversion), Auto-Trail Grande Frontier GF-70 (A-class), Bailey Adamo 69-4
Key points
Perfect for those who want to make the most of their on-board washing facilities
If you're expecting to do more washing/showering in your 'van, do check you have water tank capacities (fresh and waste) to cope
Ventilation can be more critical, too. Ideally there will be an opening window as well as at least one rooflight
Surfaces that are easy to wipe clean – such as plastic wall linings for the shower – are a great help
And the rest…
The above represent probably the 10 most popular motorhome layout floorplans currently offered by manufacturers. There are of course plenty of alternatives – including favourites from yesteryear – and manufacturers are always vying to offer something different when they announce new models.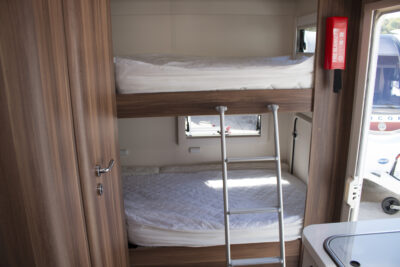 Multi-berth coachbuilts with bunk beds (always a favourite with young children) is just one example.
There are also plenty of models that cross over some of the classes above, e.g. those with twin single beds and an end washroom; A-class's with a drop-down bed as well as island beds; van conversions where the washroom and the kitchen are at the back; and plenty more.
Over to you…
Got any motorhome layout advice to pass on to other motorhome lovers or those looking to buy a new motorhome? Please feel free to add a comment below.
Cost to insure: *
---
factfile
| | |
| --- | --- |
| Model | |
| Base vehicle | |
| Axle type | |
| Dimensions | |
| Shipping length | |
| RRP | |
---
Search our blog
---