After January 2006, the seat belt laws changed for newly manufactured motorhomes. The regulations are now broken down into three categories:
1. Motorhomes manufactured between 1st April 1982 and 30th September 1988 and weighing up to 2,540kg (unladen weight)…
… must have three point safety belts for the driver and specified passenger. Any optional belts can be three point or two point belts.
2. Motorhomes manufactured after 1st October 1988…
… must have seat belts fitted for the driver and any forward facing front passengers. Three point belts are required for the drivers and specified passenger seats. Other front belts may be two point belts if the passengers head cannot strike the windscreen. Any optional rear belts can be two or three point belts.
3. Motorhomes manufactured after January 2006…
… must have at least two point safety belts for all designated seats. Mountings and belts have to conform to European and UK legal requirements (travel seats will need to be badged as such). Rear passengers in motorhomes will be obliged to use the designated seats and their safety belts. Sideways facing seats cannot be designated as travel seats (statistics show that belted side facing seats can be very dangerous in the event of collision).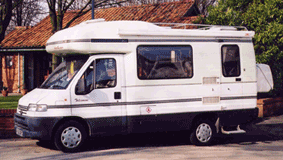 For further information please contact your local motorhome dealer.
Source: Motorcaravan Motorhome Monthly – November 2006 (page 29)