So you might find the prospect of caravanning alone daunting but it doesn't need to be. Whether caravanning for the first time or perhaps following the loss of a partner who had always towed and pitched up, it can be daunting getting to grips with all you need to know to start towing, but it's not too difficult.
We've already written a caravan beginners' guide on how to do the basics of caravanning and a list of caravanning essentials but here are 10 tips to make solo caravanning go without a hitch.
1. Buy a small caravan
If caravanning on your own why not invest in a smaller 'van that will be easier to tow, manoeuvre and store? Smaller caravans are obviously lighter and you won't need a fuel-hungry tow vehicle, whilst still maintaining the recommended 85% weight ratio. This basically means that the weight of your caravan when loaded, also known as the MTPLM, should ideally not exceed 85% of your tow car's kerbweight. You can find out more about correctly loading your caravan here.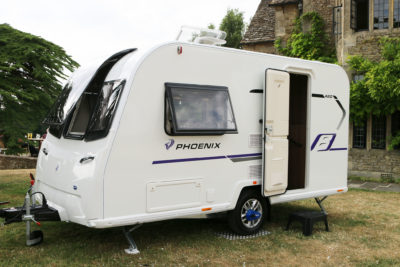 Having a smaller caravan might also mean you can make minor manoeuvres on a flat surface on your pitch by hand.
2. Towing courses
Even if you have the B+E entitlement on your licence to allow a combined car and caravan to the weight of 3,500kg, you might still want to get some expert training to give you that extra confidence. Or if you passed your driving test after 1st Jan 1997 and your tow car plus caravan weigh more than 3,500kg you'll need to take the B+E test to tow legally.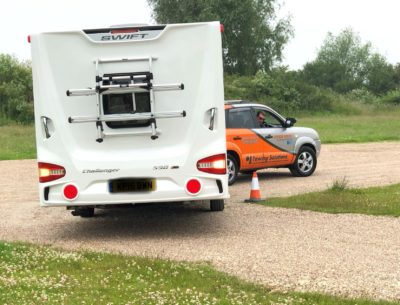 Either way, a towing course could give you that extra confidence to tow on the road and reverse onto your pitch or into your storage space with ease. The cost of simple training can start from around £240. Plus there's the cost of taking the B+E test, which is £115 on a weekday. Some towing courses, also offer a pre-test and the use of a car and trailer for around £100. (correct as of June 2020).
3. Invest in a motor mover
Without the help of another to manhandle your caravan into position when pitching up or putting it into storage, a motor mover could be a wise investment. They're very popular with caravanners of all ages and these motorised caravan movers allow you to use an intuitive remote control to manoeuvre your caravan into tight spaces and even up or down minor slopes in a controlled manner.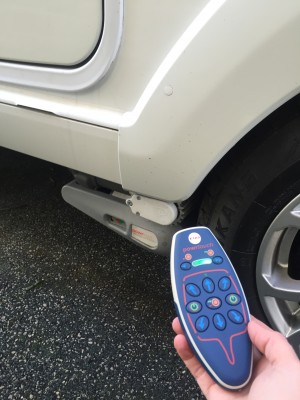 Here's all you need to know about caravan motor movers.
4. Consider a reversing camera or sensor
A towing course will go through how to reverse a caravan and practice makes perfect. But with nobody to wave you back onto your pitch, you might want to invest in a reversing aid such as a camera fitted to the back of your caravan, which relays live video to a screen mounted on your tow car's dashboard. Or reversing sensors fitted to your caravan will relay audible beeps as you get close to objects behind your caravan.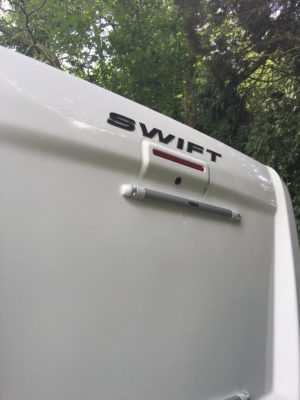 Some new caravans will come with a reversing or rearview camera or sensors as standard – perfect if you're caravanning on your own and to help avoid those manoeuvring mishaps. Plus, you'll also get a small discount off your caravan insurance with Caravan Guard.
5. Caravan towing services
If you're caravanning on your own and you really don't fancy towing and pitching yourself, or you can't justify the cost of running a large enough car to tow your van as a daily run around, look up companies who offer to tow your caravan to your chosen touring site. Of course, this could become expensive, so it might not be the right option if you plan to be caravanning on your own regularly.
We found a number of companies that offer this service, such as Caravan Towing Services. Just check that the company is credible to avoid becoming the victim of theft and that they have the right level of insurance to repair or replace your 'van should it suffer damage or be stolen in their care.
6. A seasonal caravan pitch
If all else fails, you could consider pitching your caravan up for the season on a single site, so you don't have to worry about hitching up, towing your caravan and then setting it up. A caravan towing company could take it to your chosen site and pitch it up for you for the season.
Seasonal pitching is not to everyone's taste but when caravanning on your own, you'll have your own pitch and will be able to quickly make friends with fellow caravanners. Some sites will also let you keep your caravan on the pitch or store your caravan in their compound over winter, also solving your storage conundrum. Of course, there is a fee for all this, often between £1500 and £3000 per year dependent on the site, its location and the facilities they offer. The other benefit for solo caravanners is it will save you the need to own a vehicle capable of towing your tourer.
7. Buy an inflatable awning or small porch awning
The trickiest bit about setting up an awning is getting it in the caravan's awning rail, but don't be afraid to ask for help. Plus, like everything else involved with caravanning, practice makes perfect. To make setup easier when caravanning on your own an inflatable caravan awning could be a great investment. Once attached to the awning rail you simply inflate the poles with an electric or hand pump. Ask around and see what other solo caravanners use, or consider if you need an awning at all.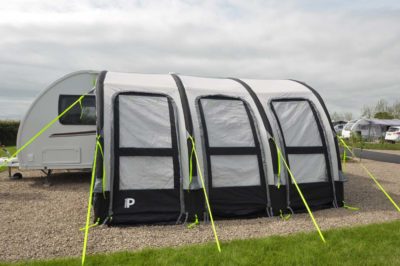 Nathan from Isabella Awnings put up this huge poled awning on his own in a matter of minutes.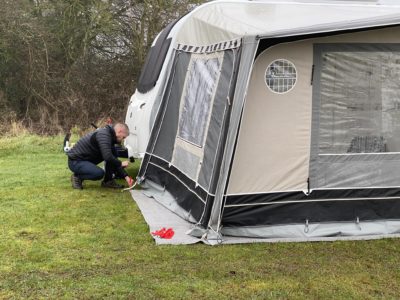 8. Ask for help
You'd be surprised once on your pitch how helpful your fellow caravanners are, whether it's advice on how to use your onboard facilities, someone to guide you on to your pitch or help putting up your awning. Caravanners are a friendly bunch and usually happy to share their knowledge, particularly if you're caravanning on your own – and don't forget onsite wardens will help too.
Don't be afraid to ask for help – we're sure you'll have a queue of people willing to give you a hand! Plus there are plenty of Facebook groups where other helpful caravanners will be able to share their advice if you get stuck – usually within minutes of posting a question.
9. Join a club
You might be caravanning on your own but you don't need to be alone on site. Many owner's clubs hold rallies so you can spend your caravanning holidays with like-minded people. Consider owner's clubs which are linked to the manufacturer of your caravan or even look for specialist groups such as a single caravanners' club, like the New Horizons Camping Club. Or take a friend with you on your caravanning holidays.
10. Use a sat nav
Map reading will be difficult if you're solo caravanning so it's worth investing in a sat nav to help you get to your destination with ease. There are sat navs on the market specifically for caravans, where you can input the width and length so it doesn't take you down unsuitable lanes.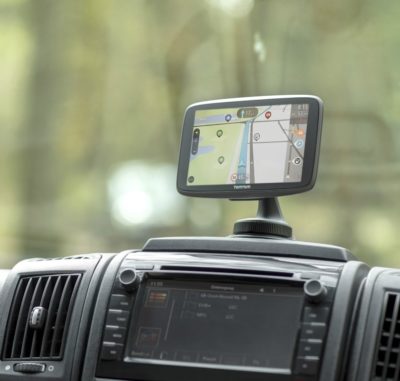 You might also want to choose your campsites carefully, and avoid those with really narrow lanes, which might be difficult to tow down without some onboard help to guide you.
Finally, make sure your covered with a specialist caravan insurance provider, which has emergency recovery help should your caravan be involved in an accident, and it becomes untowable. Also, make sure you have suitable breakdown cover for your tow car, in case anything happens to your car, and that recovery of your caravan is also included in that policy.
With our caravan insurance we'll aim to get your caravan back on the road as soon as possible. You'll also want specialist caravan insurance cover against theft, storm, flood, accidental damage and vandalism.
Cost to insure: *
---
factfile
| | |
| --- | --- |
| Model | |
| Base vehicle | |
| Axle type | |
| Dimensions | |
| Shipping length | |
| RRP | |
---
Search our blog
---